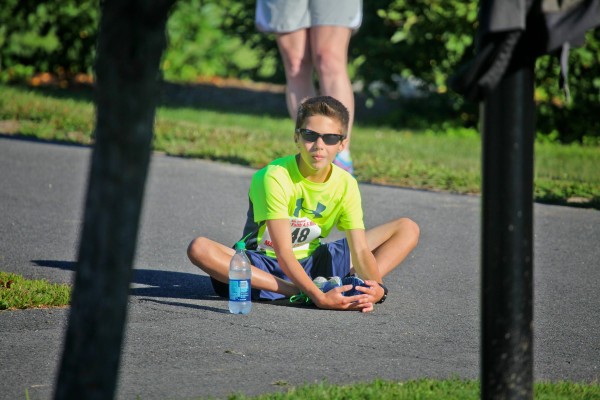 PLYMOUTH, MA…

The Run for Faith recently announced the availability of sponsorship opportunities for new corporate sponsors for its fifth-year race, which takes place on Sunday, August 23 at 8:30am at historic Plimoth Plantation.
The Run for Faith offers several layers of sponsorship opportunities, which includes: Hummingbird Sponsorship ($2500); Song Sparrow Sponsorship ($1000); Red Robin Sponsorship ($500); and the Chickadee Sponsorship ($250). Each sponsorship contains different levels of exposure for businesses; the greater the sponsorship amount, the greater exposure for your company.
"The local business community has been very generous to us from year one. Part of that is due to our members of our family being a part of the Plymouth business community for many years and many knew my mother," said Matthew Romboldi, Run for Faith organizer and son of Faith Marcia "Marcy" Romboldi, in whose memory the race is held. Faith lost her battle to ovarian cancer in 2010.
Added Romboldi, "The other part is that word has gotten around about the race and the causes we support—like the Yawkey Center for Cancer Care and ovarian cancer research, as well as the local high school scholarships."
Some of this year's sponsors include: Ziggy's Ice Cream; Marty's Buick GMC; Plimoth Plantation; Cold Spring AC; Plymouth Belle Cruises; Stevens The Florist; Mayflower Wine & Spirits; Newfield House; Mamma Mia's; Mahasset Gardens; Cape Auto; Baker's Auto; RJF Homes; G&G Silkscreen Embroidery; Associated Engineers, Inc; Unity Club; WPLM-FM; Plymouth Rock Racing; JM Schneider & Family; Rogers & Gray Insurance; Discount Detail; Tiny T's Sealcoat; JB Carpentry;  Northeast AC; and the Water Street Cafe.
In its brief history, the Run for Faith has donated more than $20,000 to the Dana Farber's Yawkey Center for Cancer Care, $10,000 in scholarships to graduating Plymouth North and Plymouth South high school students, as well as monies supporting local non-profits like Plymouth Public Library and Sweet Adelines.
With the 5th annual Run for Faith set for Sunday, August 23, organizers are counting on year five of this 4.58-mile race to break previous fundraising efforts and new sponsors are a significant part of that endeavor.
Those interested in being a sponsor can contact Matt Romboldi at info@runforfaithplymouth.org.
The 4.58-mile Run for Faith race loop captures spectacular views of Cape Cod Bay, the Eel River and scenic horse farms. The course features rolling hills and unmatched history.  Water stations are plentiful and the event is chip timing for more accurate time tracking. This technology also triggers a camera along the course so runners can have a photo of themselves in action during the run.  Walkers are welcome.
The Run for Faith is a gold member in the Bayside Runner Racing Series. The entry fee is $25and runners can register at www.runforfaithplymouth.org.
Cash prizes will go to top three finishers, male and female, and awards will be given to top finishers for various age groups. Post-race "light refreshments" will include bananas, oranges, bagels, muffins and scones. To amuse younger family members, a jumpy house will be available. A number of vendors will be on hand to sell their wares before and after the race.
The Run for Faith is organized by Run for Faith, Inc., which is 501(c)(3) non-profit organization created to commemorate the special life of Faith "Marcy" Romboldi who gave so much of herself to both individuals and the community.
For more information, please visit www.runforfaithplymouth.org, or email info@runforfaithplymouth.org. You can view the course online at: http://www.mapmyrun.com/us/plymouth-ma/run-for-faith-plymouth-ma-route-115100461.
Sponsorship opportunities for 5th annual Run for FaithRead More