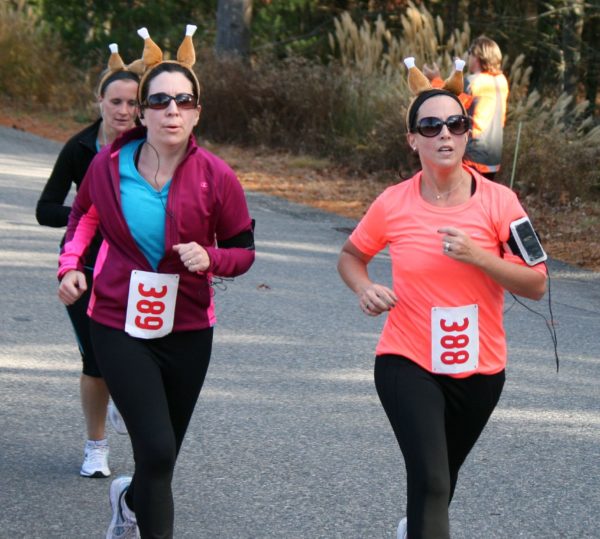 PLYMOUTH, MA…
We know about the Town of Plymouth's first Thanksgiving tradition. In recent years, it's newest tradition—Thanksgiving Day road races—have gained in popularity and notoriety. Case in point, Men's Journal recently named Plymouth's Thanksgiving Day races as the fifth best Thanksgiving Day road race in the U.S.
The Thanksgiving Day road races, put on by Plymouth, MA-based Plymouth Rock Racing, include: Pilgrim Trot 5K, Plymouth Turkey Trot and Plymouth Turkey Trot Second Helping Challenge. Each run/walk features its own unique qualities and characteristics. Here's what Men's Journal had to say:
"Is there any place better to celebrate Thanksgiving than Plymouth, Massachusetts? Choose from the Pilgrim Trot 5K, the Plymouth Turkey Trot, or go big with the Plymouth Turkey Trot Second Helping Challenge. The 5K is run on the oldest public road in America (Old Sandwich Road) — entirely on dirt. The Plymouth Turkey Trot (4.77 miles) starts and finishes at Plymouth Rock and runs to the Forefathers Monument, passing by the Mayflower replica and other historic sites. For ultimate Turkey Day bragging rights, run the Second Helping Challenge (run both races back-to-back) — the Plymouth Turkey Trot starts at 7:30 a.m., and the 5-K race starts at 10:30 a.m., just six miles away."
The ranking from Men's Journal is the most recent national ranking Plymouth Rock Racing's Thanksgiving Day races have received. Runners World (ranked 11 for the second year in a row), Daily Burn (ranked two years in a row), and the Food Network Magazine (ranked 10th in 2015) have all listed the Plymouth Turkey Trots in their rankings of top Thanksgiving Day road races in the United States. Not only have Plymouth Thanksgiving Day races continued to be ranked in these publications, but have moved up. For example, Plymouth Thanksgiving Day races rose from 20th to 10th in Daily Burn.
"A lot of time and energy goes into putting on these runs and it's quite gratifying to receive this type of notoriety from a publication like Men's Journal is gratifying and humbling," said Craig V. Brenner, director of Plymouth Rock Racing. "This year's day of races promises to be the biggest and best we've had to date."
The Turkey Trot features something new this year, with a three- and five-mile course available. After the Trot, runners can sign up for the Second Helping Challenge, which also features two course distances—3.1 miles and five miles.
The Thanksgiving Day Pilgrim 5k Run and Walk starts at 10:30 at from Village Racquet at Pine Hills, 30 Golf Drive, Plymouth at 10:15 a.m. rain or shine, also on Thanksgiving morning. The course includes the oldest road in America, Old Sandwich Road. This race site was the original trail used by Pilgrims and Native Americans in the 1600's as they traveled from Plymouth to Sandwich, Mass.
Food drives will be held at both race sites, with donated items going to the food pantry at the South Shore Community Council.
Prizes will be awarded to men's and women's winners in several age groups. All participants will receive a commemorative finishers' medal.  T-Shirts, designed by professional graphic artists, will be given to all participants.
For complete race information and registration details on the Plymouth Turkey Trot, Thanksgiving Day 5k and the Second Helping Challenge visit http://plymouthrockracing.wixsite.com/plymouthrockracing. If you or your company is interested in sponsoring either the Plymouth Turkey Trot or the Thanksgiving Day Turkey 5k Run and Walk, please contact Craig Brenner at plymouthrockracing@gmail.com.
High five to Plymouth Rock Racing. Plymouth Rock Racing's Thanksgiving Day runs– Pilgrim Trot 5K, Plymouth Turkey Trot, Plymouth Turkey Trot Second Helping Challenge—make Men's Journal's top fiveRead More