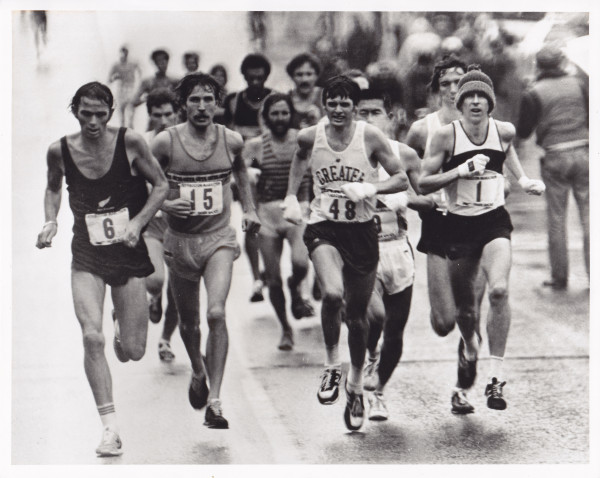 Bill Rodgers, the running legend who was the face of the running revolution in the 70s and 80s, will be participating in the 5th annual Run for Faith on Sun., August 23, 8:30 a.m. starting at the Plimouth Plantation.
Rodgers is the former American record holder in the marathon who is best known for his four victories in the Boston Marathon, including three straight 1978-1980 and the New York City Marathon between 1976 and 1980.
"Having Bill Rodgers join us for the Run for Faith is a thrill," noted Matt Romboldi, one of the founders of the race run in memory of his mother, Faith "Marcy" Romboldi, who lost her battle with cancer in 2010. He added, "We wanted to try something different this year because Plymouth has become such a running destination and has so many road races, we wanted to try something different to give this year a big  push. Bill will help us do that.  When I was a serious runner I had a Bill Rodgers poster on my wall. He was among my inspirations.  I'm sure other runners will be delighted to talk with him at the race this year."
Fans will have the opportunity to buy an autographed copy of Rodgers' recent book "Marathon Man: My 26.2-Mile Journey from Unknown Grad Student to the Top of the Running World" and to have a photo taken with him and snapped by local Plymouth photographer Dan Rapoza.
Rodgers won both races four times each between 1975 and 1980, twice breaking the American record at Boston with a time of 2:09:55 in 1975 and a 2:09:27 in 1979. In 1977, he won the Fukuoka Marathon, making him the only runner ever to hold the championship of all three major marathons at the same time. He made the 1976 U.S. Olympic team and raced the marathon at the Montreal Olympics in 1976, finishing 40th. He did not participate in the Olympics in 1980 due to the U.S. boycott over the invasion of Afghanistan by the USSR.
In its five-year history, the Run for Faith has carved out several niches. One of those is as a family-oriented road race that offers a more rural course than other Plymouth road races at a distance that presents a challenge for both novice and experienced runners. This year's Run for the Faith, the fifth annual run, takes place on Sunday, August 23 at 8:30am, starting from Plimoth Plantation.
Run for Faith has added some extras this year. Those extras include a chip timing device for more accurate time tracking. This technology also triggers a camera along the course so runners can have a photo of themselves in action during the run.
The 4.58-mile Run for Faith loop captures spectacular views of Cape Cod Bay, the Eel River and scenic horse farms. The course features rolling hills and unmatched history.  Water stations are plentiful and the event is professionally timed. Walkers are also welcome.
Post-race "light refreshments" will include bananas, oranges, bagels, muffins and scones.  To amuse younger family members, a jumpy house will be available. A number of vendors will be on hand to sell their wares before and after the race.
During its five year history, the Run for Faith has raised more than $20,000 for Dana Farber's Yawkey Center for Cancer Care. The run has funded two annual scholarships for graduating high school seniors from Plymouth North High School and Plymouth South High School. The Plymouth Public Library and other local non-profits are also the beneficiary of funds raised by the Run for Faith.
One hundred percent of Run for Faith entry fees goes to these charitable efforts.
The entry fee for the Run for Faith is $25 for individuals. There are reduced entry fees available for members of Girls on the Go and South Shore Running Moms. Runners can register at www.runforfaithplymouth.org.
The Run for Faith is organized by Run for Faith, Inc., which is 501(c)(3) non-profit organization created to commemorate the special life of Faith "Marcy" Romboldi who gave so much of herself to both individuals and the community.
Faith, or "Marcy" as she was known by her friends and family, was a teacher, member of the Red Hat's Society, Sweet Adeline's, and Daughters of the American Revolution. She was diagnosed with ovarian cancer in 2008. Marcy's ability to fight this vicious disease with incessant might and unsurpassed grace will never be forgotten and surely serves as inspiration to those who were close. Mostly, Marcy will be remembered for her acts of kindness, generosity and thoughtfulness. Many will remember her for her two best accessories- a lovely hat and a radiant smile!
For more information, please visit www.runforfaithplymouth.org, or email info@runforfaithplymouth.org. You can view the course online at: http://www.mapmyrun.com/us/plymouth-ma/run-for-faith-plymouth-ma-route-115100461.
Running Guru Bill Rodgers to join in the 5th annual Run for Faith on Sun., August 23, 8:30 a.m.Read More