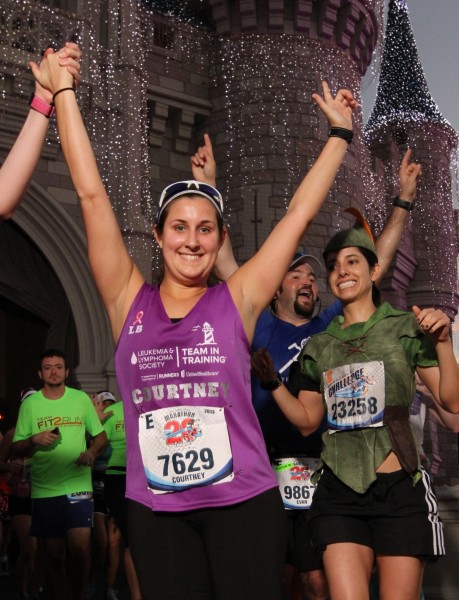 Courtney Boynton, a Certified Athletic Trainer at Mass Bay Spine & Sport Physical Therapy (MBSSPT) in Marshfield, participated in the 20th Walt Disney World Marathon in Orlando, FL in January in support of the Leukemia and Lymphoma Society.
Ms. Boynton ran in the 26.2-mile Walt Disney World Marathon as a member of The Leukemia and Lymphoma Society's (LLS) Team In Training to raise funds to help find cures and better treatments for leukemia, lymphoma, Hodgkin's disease and myeloma.   Among the 20,679 male and female runners who finished the race, Ms. Boynton placed at 9,529 overall and 3,944 among the female runners.  Her clock time was an impressive 5 hours and 28 minutes.
Ms. Boynton ran the race in honor of her grandmother, Lucille Boynton who was diagnosed with lymphoma last year.
"My mission is to help find cures and more effective treatments for blood cancers. My grandmother is now in remission thanks to foundations such as LLS. I wanted to choose a fundraising cause to help other people with similar cancers as my grandmother. With the donation support I receive in running this marathon, I can help improve the quality of life for patients and their families as well," explained Ms. Boynton.
Ms. Boynton met her fundraising goal of $4,000 for the Leukemia and Lymphoma Society.
"We're very proud of our colleague Courtney and support her every step of the way.  She did an amazing job and the funds that she raised will help advance cancer research and treatment," noted Brendan Carman, MPT, ATC, founder of MBSSPT.
About MBSSPT
Mass Bay Spine & Sport Physical Therapy (MBSSPT) is an orthopedic outpatient physical therapy practice. MBSSPT, a state-of-the-art facility owned and operated by a physical therapist, has earned a reputation for superior clinical care and delivery of services to South Shore community members as well as physicians from Boston to Plymouth.
The practice's highly trained staff is committed to providing clients with an experience that will ensure their condition is resolved effectively and efficiently, while empowering them with the necessary tools and knowledge to prevent future problems and maintain optimal health.  All of the practice's physical therapists are trained to rehabilitate a variety of conditions utilizing treatment techniques that include soft tissue massage/mobilization, therapeutic and strengthening exercises,  neuromuscular reeducation,  gait training, patient education, and lumbar stabilization,  to name a few.  MBSSPT accepts Medicare, Workers' Compensation, auto insurance, and most private insurance plans.
Mass Bay Spine & Sport Physical Therapy is located at 506 Plain Street in Marshfield.  For more information, visit www.massbayspineandsport.com or call (781) 319-0024.
Courtney Boynton of Mass Bay Spine & Sport Completes the Disney Marathon in Support of Leukemia & Lymphoma SocietyRead More