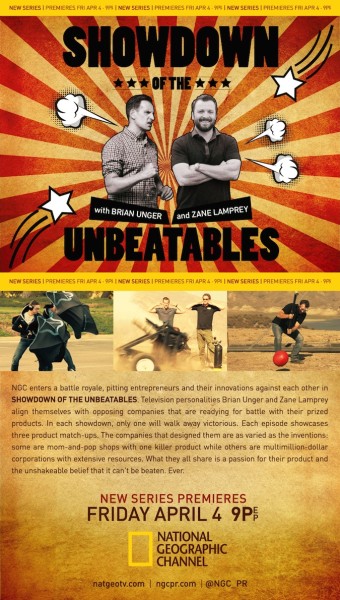 OnGuard, a leader in bicycle and powersports security, will be featured on National Geographic Channel's hit new series, "Showdown of the Unbeatables" on Friday, May 23, 2014 at 10 p.m.
Brian Unger and Zane Lamprey, the show's hosts, line-up the best products of American companies against one another in a battle where only one walks away victorious. OnGuard, one of the signature brands of Todson Inc., based in Foxborough, MA will face-off against an unsuspected and highly unusual opponent in the May 23rd showdown. To learn more about the show, visit http://channel.nationalgeographic.com/channel/showdown-of-the-unbeatables.
"The National Geographic Channel has launched a great new show where consumers get to see products in action, battling it out in unique challenges. The products featured are innovations from ANY company, large or small. Who doesn't want to witness a product perform prior to purchasing it? We're thrilled to have the opportunity to showcase one of our toughest OnGuard security locks," said Neal Todrys, president of Todson.
OnGuard is known for their quality, innovation, and top-rankings. Providing the best lock at the best price, OnGuard has received a number of accolades over the years. Most recently, the OnGuard Pitbull STD lock won Gizmodo's Best rating and the OnGuard Mastiff 5019 passed the Men's Journal Torture Test.
The OnGuard line-up is categorized based on security levels (Ultimate, High, and Basic) so customers can confidently choose the lock that best suits their needs. OnGuard locks come with key-code registration service for secure key replacement, keyed-alike options, comprehensive anti-theft programs, limited lifetime warranties and more.
OnGuard products are offered at the finest independent bicycle and motorsports dealers and can also be purchased online at onguardlock.com.
OnGuard Security – More Lock, Less Money
OnGuard locks offer optimal bicycle and motorsports security with the latest technological innovations, quality construction, and ease-of-use at very competitive pricing. OnGuard, along with Topeak and Velox, are the signature brands of the family-owned Todson company. For more than 60 years, Todson has been a fixture of the bicycling industry in the U.S., representing some of the world's most storied cycling brands. Todson is a full-service organization offering distributors, retailers and consumers a complete range of products and services.
Todson is headquartered in Foxborough, MA. For more information about OnGuard, visit www.onguardlock.com or call 774-306-3248.