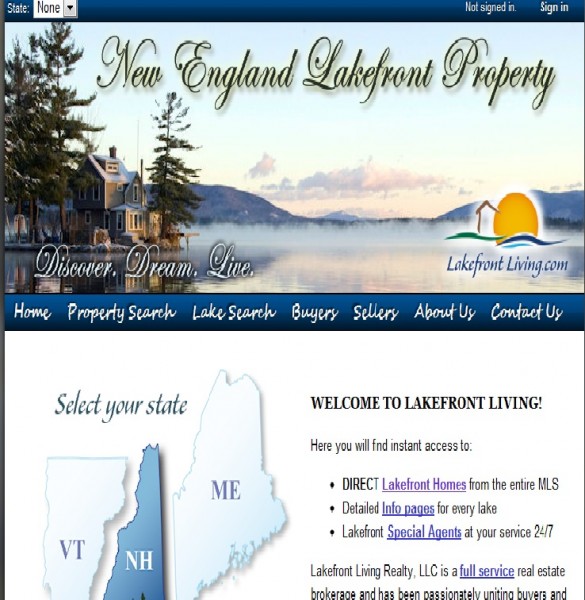 MANSFIELD, MA…
When Scott Freerksen started Lakefront Living Realty, LLC, the primary purpose was to save prospective buyers of lakefront property time and energy by providing them with a team of lake experts who also happened to be realtors. Lakefront Living's new iteration of their website, www.lakefrontliving.com, follows the same thought process,  dramatically reducing research time for prospective buyers and sellers by putting specific lakefront property information at the user's fingertips within seconds.
"We only sell properties that are directly on lakes—not homes that are down the street or within walking distance but right on the water. So by the very nature of our business model, we save people a lot of time and hassle," said Freerksen, who started Lakefront Living Realty, LLC back in 2003. "By taking the feedback received from both buyers and sellers, we've been able to create a website that creates greater time savings, empowering people to conduct research of any lakefront home in Massachusetts, New Hampshire and Rhode Island and have all the pertinent information within seconds."
Adds Freerksen, "To put that into perspective, many of our clients told us their searches for a particular property could take anywhere from three to five hours. The new website has taken that down to 15 seconds."
Major changes to www.lakefrontliving.com include:
Addresses for lake properties shown on all inquiries
A mapping feature showing the location of each lake home
Pull-down menu items with easy access to most used links
Scrolling "Featured Listings" for each state
Jump from state to state with one click (MA, RI, NH)
New quick search icons for popular functions
Latest Blog posts on each home page
Improved overall navigation
Each lakefront property includes detailed information on the body of water it abuts, such as things like activities (e.g. boating, swimming, fishing), lake size, depth, water quality and more.  The website also provides access to Premier Lakefront Property Specialty Agents who possess specific knowledge about purchasing or selling a home on the lake in question.
"We're happy to work with anybody who has an interest in purchasing or selling a lakefront home, but the entire process goes much smoother with clients who have done some research coming in," said Freerksen. "This version of our site makes it easier for people to do the research needed before starting their search or to do some follow up research once they have started."
For more information on Lakefront Living Realty's services, you can visit their website at www.lakefrontliving.com. Additionally, Scott Freerksen regularly holds seminars on the keys to buying and selling lakefront property. Please visit the company website or call 508-377-7167 for the date and time of the next seminar.
About Lakefront Living Realty, LLC
Based in Mansfield, Massachusetts, Lakefront Living Realty, LLC is a full service real estate brokerage specializing solely on the purchase and sale of pond and lakefront property in Massachusetts, New Hampshire and Rhode Island. Owner Scott "The Lake Guy" Freerksen, a Real Estate Broker and Realtor, founded Lakefrontliving.com in 2003 as way to support his real estate practice and to bring to potential buyers and sellers a website that features direct lakefront homes. All the "riverfront", "oceanfront", "across the street", "within walking distance" homes are taken out of the site.
Lakefront Living Realty has one mission: To passionately unite Buyers and Sellers of lakefront property. For complete information, please visit www.lakefrontliving.com or call Scott at 508-377-7167.