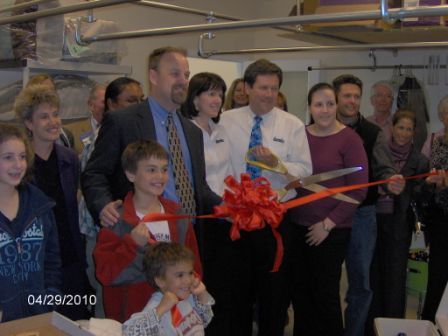 LITTLETON, CO…
Lapels Dry Cleaning of Littleton, CO is helping to raise the bar on environmentally friendly practices within the dry cleaning industry through their program for recycling hangers.  Used steel hangers are collected from customers and reused or sold as scrap metal and those proceeds are then donated to worthy community groups.
By giving where it matters most — education and fighting hunger — Lapels redefines what it means to be green, focusing on sustainability, which is one of the main goals of green practices. Last year Lapels of Littleton received over three thousand pounds of hangers.  These efforts resulted in donations in excess of $300.
Lapels has also provided support to many of the schools in the neighborhood as well as the Leawood and Columbine Knolls Community Associations.
Dave Wood, local owner and operator of Lapels of Littleton, noted, "Doing business in the community means a lot more to me than just making a living.  It also means making an impact. We are delighted to be in a position to both be a steward of the environment and share recycling revenues with non-profit organizations in our region."
Lapels has pioneered its eco-friendly dry cleaning experience over the past 10 years.  Lapels is committed to using the most advanced environmental practices and technologies not only in the manner in which they clean clothes but also in the build of their Stores and Plants. Their environmentally-friendly cleaning process has no odor, breaks down naturally and is gentler on clothes, thus lengthening the life of clothes. At Lapels you can see, feel and smell the difference.
Lapels Dry Cleaning – Environmentally Friendly Cleaners
Each Lapels Dry Cleaning store offers a full slate of services, including: same-day dry cleaning; shirt service; tailoring; shoe repair; wedding gown preservation; suede and leather processing; box storage and fur storage. Lapels Dry Cleaning has stores in Arizona (Gilbert, Phoenix), California (Poway), Colorado (Littleton), Connecticut (Cromwell), Louisiana (Monroe, West Monroe), Massachusetts (Abington, Bedford, Boston, Brighton, Cambridge, Dedham, Easton, Framingham, Hanover, Marshfield, Newtonville, Norton, Walpole, Westford, Westwood and Wilmington), Missouri (Wildwood), New Jersey (Brick, Freehold and Verona), Ohio (Liberty Township), Pennsylvania (Bloomsburg), Rhode Island (Lincoln); South Carolina (Myrtle Beach, Pawleys Island); Texas (Arlington). Additional locations coming soon to Chandler, AZ, Boston, MA, Quincy, MA and Brownsville, TX.
Lapels Dry Cleaning has been ranked in Entrepreneur's 26th Annual "Franchise 500" as well as Entrepreneur's "Top 50 New Franchises," identifying Lapels Dry Cleaning as one of today's top franchise opportunities. Entrepreneur's "Franchise 500" is the best and most comprehensive rating of franchises in the world and is based on objective, quantifiable measures of a franchise operation.
Lapels Dry Cleaning corporate offices are located at 962 Washington Street, Hanover, MA 02339.
To learn more about franchise opportunities with Lapels Dry Cleaning, call toll free (866) 695-2735 or email sales@lapelsdrycleaning.com. Additional information and up-to-date company news can also be found on the company's Web site, www.lapelsdrycleaning.com.