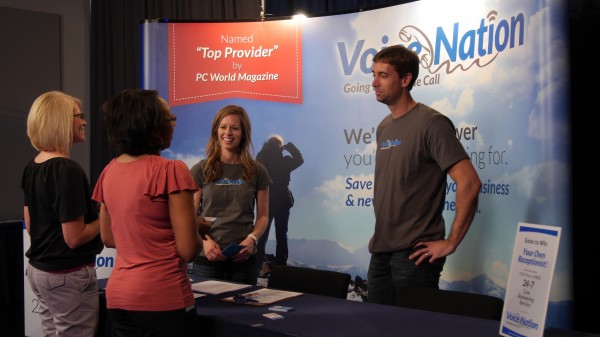 VoiceNation, a preferred call center partner for thousands of businesses nationwide, had a successful exhibition at the first annual Small Business Summit held recently in Athens. Small businesses that attended the trade show can take advantage of VoiceNation's $25 discount on their small business live answering service order by visiting VoiceNation's dedicated web page at http://www.qualityansweringservice.com/Athens.
The Small Business Summit was host to 250 members of the Athens-Clarke county area small business community. VoiceNation was among more than 50 service-based industries exhibiting. The event was presented by StartStrategic and held at the Classic Center.
The VoiceNation team attended two key sessions: "Solving Your Toughest Issues: Growing Revenue & Profits" and "Solving Your Toughest Issues: Staying Focused: The Right Strategic Issue". These sessions were structured after the University of Georgia's (UGA) Bulldog 100 Strategy, where the Top 100 Companies owned and operated by UGA Alumni get together to discuss pain points and solutions in bettering their business.
"In addition to learning from other successful entrepreneurs in the sessions, it was an absolute pleasure to hear motivational speaker, Steve Baker, VP of the Great Game Business share his tips on operating and growing a successful business and to meet Georgia Secretary of State Brian Kemp," noted Jay Reeder, VoiceNation's president. "Overall, it was a very successful show for us. We built strong connections and networked with many small business entrepreneurs in need of our services."
Carving A Niche in the Small Business Sector
VoiceNation's Small Business Answering Service division serves a wide variety of small businesses ranging from real estate firms, legal firms, medical and dental practices to general contractors, plumbing/HVAC, restaurants, property management firms, religious organizations and others.
The award-winning answering service provides tailored 24/7 live answering, customer support and help desk solutions for small businesses and their clients. VoiceNation recently reached a significant milestone of 50,000 customers, due in part to their rapid growth within the small business sector. The company is the first to offer Instant Activation, which is especially valuable to small businesses.
About VoiceNation
VoiceNation is America's telecommunications leader in virtual PBX, voicemail, and innovative live answering solutions. Named "Top Provider in Industry" by PC World, VoiceNation provides live answering services and call center solutions utilizing the latest in proprietary technology to deliver high quality call answering services at the lowest cost to their customers. In this way, VoiceNation enables businesses of all sizes to compete in the marketplace with 24-hour availability that adapts to any situation.
Founded in 2002, VoiceNation is a privately held company that serves more than 40,000 customers including FEMA, Blue Cross/Blue Shield, Dell, AIG and the U.S. Coast Guard. The company also provides qualified non-profit, tax-exempt charities with access to voicemail, faxmail and other specialized communication services at reduced cost through their Care2Call outreach program.
To learn more about VoiceNation, visit http://www.qualityansweringservice.com.