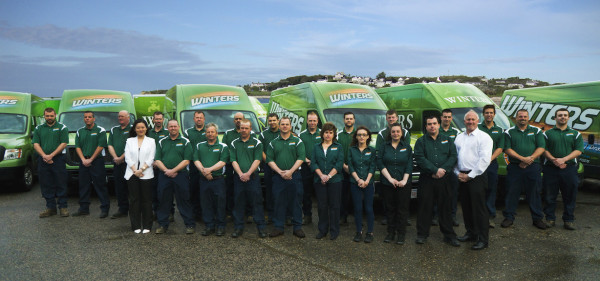 May is National Asthma and Allergy Awareness Month and Winters Home Services, providers of plumbing, heating, cooling and air quality services to residents throughout the greater Boston area, offers tips for improving air quality in the home.
According to the American Lung Association, an estimated 40 million people in the nation are affected by allergies, and asthma is the leading chronic illness among children.
Tim Flynn, owner of Winters Home Services explained, "Indoor air quality is crucial because we spend the majority of time indoors, where we are repeatedly exposed to indoor air pollutants. Indoor irritants can trigger an allergic or asthmatic reaction."
To improve the home's air quality for individuals with asthma and allergies, it's important to reduce irritants such as dust and dust mites, mold, pollen, smoke, pet hair and other pollutants.
Air cleaners or purifiers can help reduce pollutants. High Efficiency Particulate Air (HEPA) filters are designed to remove 99.97 percent of all airborne pollutants, which includes pollen and dust. Installing an ultra-high efficiency air purifier such as IQAir, one of the highest rated air purifying systems in the U.S. and available through Winters Home Services, can significantly improve air quality.
Water leaks and high humidity can lead to mold growth. Check for, and repair any plumbing leaks promptly. Keep homes dry by using dehumidifiers.
Minimize dust and dirt tracked in from the outdoors by removing shoes at the door to your home. Reduce irritants that settle on your home's surfaces by cleaning these surfaces weekly with a damp cloth and using a vacuum cleaner with a HEPA filter.
Replace air filters and ensure routine maintenance and repair of air conditioning units.
The fireplace can be a major source of carbon monoxide and combustion pollutants. Make sure to have the flue and chimney inspected annually for exhaust back drafting, flue obstructions or cracks, excess creosote or other damage.
Forego the fragrance aerosols and other synthetic fragrances, which can emit various chemicals into the air.
"Improving a home's indoor air quality can reduce the exposure to allergens and pollutants, which is key in the management of asthma and allergies," explained Flynn.
Take steps towards better air quality in the home. Have your plumbing, heating and air conditioning systems inspected annually and consider installing an air purifier. Contact Winters Home Services at 866-482-7586 or visit wintershomeservices.com.
About Winters Home Services
Winters Home Services is an award-winning service company based in Cambridge, Massachusetts, specializing in plumbing, heating, cooling, drain cleaning and air quality services. Offering the first-to-market CarePlus Home Monitoring Program and lifetime guarantees on many of their services, the company focuses on high quality workmanship and consistent world-class customer service. Winters Home Services promises to fulfill the needs of every customer with a sense of urgency, ensuring comfort, safety and well-being.
Winters Home Services is one of the largest residential plumbing companies in the greater Boston-area with a large fleet on the road and a full staff of licensed and insured plumbers and technicians.  Dedicated to supporting the community, Winters is a sponsor of the Duckling Day Parade annual Mother's Day event and a partner of the Friends of the Public Garden, a non-profit organization that works to protect and improve Boston's first public parks: the Boston Common, Public Garden, and Commonwealth Avenue Mall. The company is an ongoing supporter of events at Club Café.
For more information, call 866-482-7586 or visit wintershomeservices.com.