Footsteps heard around the world as popular obstacle course race goes virtual to raise funds for research and a cure for type 1 diabetes.
November is National Diabetes Month and November 14th is World Diabetes Day. Type One, a 501(c)(3) nonprofit organization based in Hingham, MA, recognizes a world free of type 1 diabetes and is dedicated to that future by raising public awareness and funds toward a cure through research.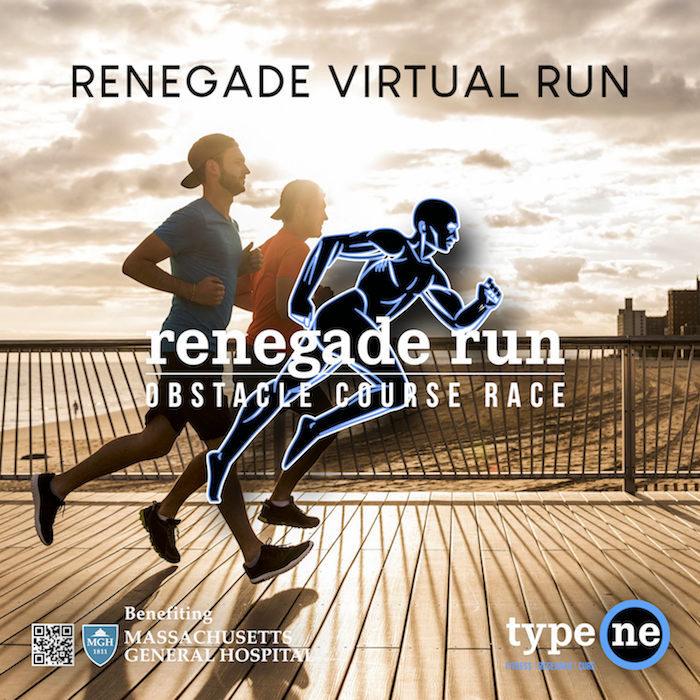 With a goal to raise awareness and increase their footprint, Type One's Renegade Run, the popular obstacle course race supporting type 1 diabetes research and a cure, did exactly that this year. After pivoting to a virtual four-mile run/walk due to the coronavirus (COVID-19) pandemic, Renegade Virtual Run successfully expanded their reach across the globe, with participants from Australia, France and the Netherlands, and stretching from the U.S. West Coast to East Coast and states in-between.
"Although our race looked different this year, our virtual format was a tremendous success in that we were able to reach well beyond our borders, receiving support for our mission and vision of a cure to end T1D," explained Type One's co-founder, Paul Foti.
Renegade Virtual Run allowed participants to complete the race anytime, anywhere from mid-September to mid-October. This year marked the ninth year of the obstacle course race which has traditionally been held at Wompatuck State Park and Bare Cove Park in Hingham.
Renegade Virtual Run supports the "Type One Cares" campaign dedicated to building a community to assist those affected by type 1 diabetes with support, education and endowment, so they can live a powerful life beyond the diagnosis. The Type One Cares campaign does this while continuing to fund research at the Faustman Lab at Massachusetts General Hospital (MGH). To date, Renegade Run has generated over $100,000 to support the Faustman Lab which is focused on discovering and developing new treatments for type 1 diabetes, a vaccine for the reversal of long-term type 1 diabetes and other autoimmune diseases.
In the U.S., diabetes is the seventh leading cause of death, according to the Centers for Disease Control and Prevention (CDC). Findings from the CDC's National Diabetes Statistics Report, state that just over one in 10 Americans have diabetes, and there has been a significant increase in new diagnosed cases of type 1 and type 2 diabetes among youth in the U.S.
"Type 1 diabetes doesn't just involve the person living with the disease, it involves their entire family and support system," explained Foti. "We're a local nonprofit that is proud to create an event that provided communities around the world with hope, with an outlet to come together virtually to raise awareness and funds toward a cure for type 1 diabetes and to assist those living with the disease."
In addition to supporting the Faustman Lab at MGH, Type One donation and fundraising platforms help provide scholarships to local children with type 1 diabetes to attend type 1 diabetes camp, as well as providing qualifying recipients with assistance for diabetes management and treatment. For more information on the Faustman Lab at MGH and type 1 diabetes, visit www.faustmanlab.org
Type One is incredibly grateful to all the individuals and virtual teams who rallied to support and participate in Renegade Virtual Run. Type One thanks sponsors Prime Motor Group, Honey Dew, Walmart, Global Vision Advisors, Eastern Bank, Stiles Law, and CBD Stat for their essential support.
#GivingTuesday
For those who were unable to participate in the Renegade Virtual Run this year, but would still like to support individuals with type 1 diabetes and the research for a cure, consider making a donation to "Type One Cares" campaign on #GivingTuesday, December 1, 2020. https://typeonerenegaderun.com/donate/
To learn more about Type One's mission, the work towards a vaccine and cure, visit https://typeonerenegaderun.com/mission/
About Type One
Type One, a 501(c)(3) nonprofit organization, recognizes a world free of type 1 diabetes and is dedicated to that future by raising public awareness and funds toward a cure through research. Type One was founded in 2012 by a group of South Shore residents to support their friend Tyson Sunnerberg, who was diagnosed with type 1 diabetes, an autoimmune disease in which a person's pancreas stops producing insulin, when he was 21 years old. On November 25, 2012, the first ever Renegade Run Obstacle Course Race was held raising awareness and funds toward a cure. Type One is headquartered in Hingham, MA. Visit https://typeonerenegaderun.com