Raise awareness and funds for research and a cure for type 1 diabetes from anywhere in the world! Type One of Hingham, MA announces "Renegade Virtual Run" will be held September 12-27, 2020.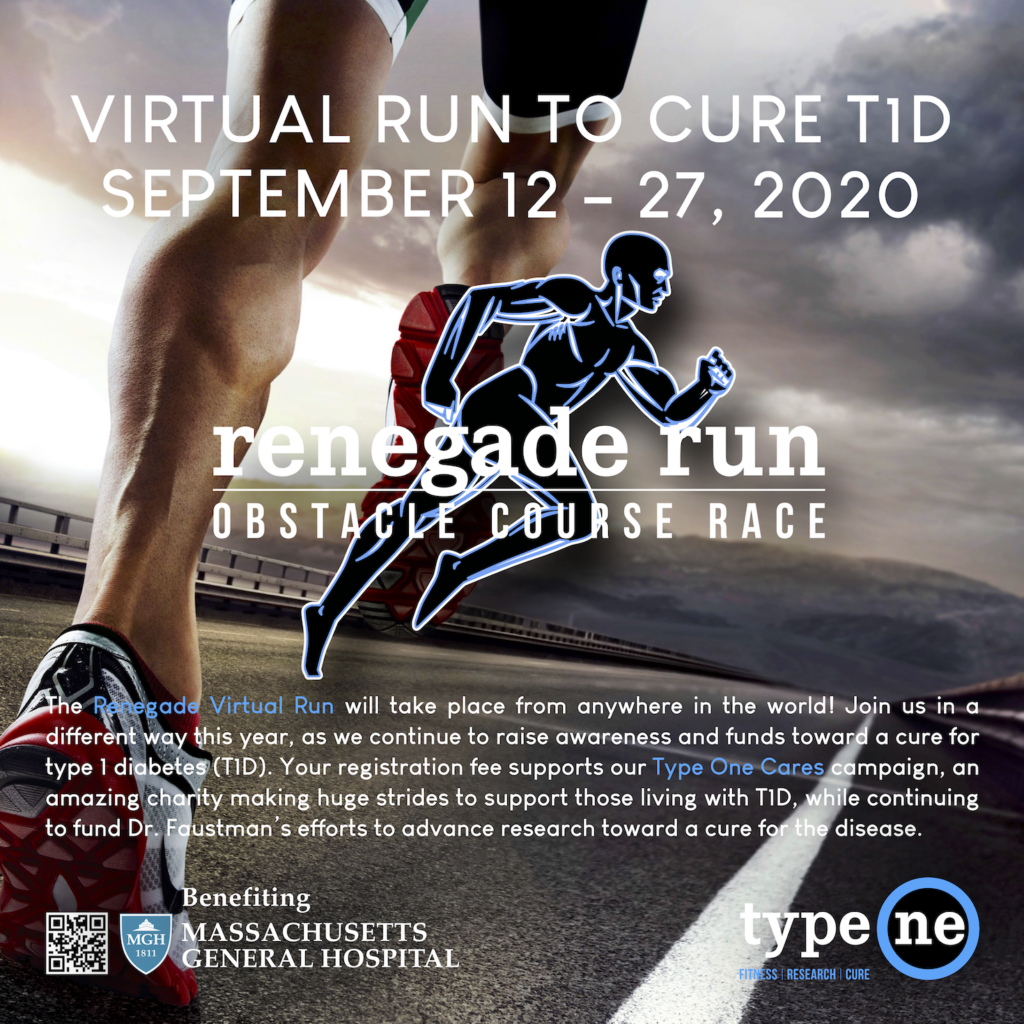 For the past eight years, Type One has held their annual Renegade Run Obstacle Course Race to support diabetes research and a cure at Hingham's Wompatuck State Park and Bare Cove Park. But this year, in light of the COVID-19 pandemic, Type One has pivoted to a virtual four-mile run/walk – the Renegade Virtual Run – which can be completed anytime, anywhere over the 16-day period.
Renegade Virtual Run supports the Type One Cares campaign, a charity that is making significant strides to support individuals living with type 1 diabetes, while continuing to fund research at the Faustman Lab at Massachusetts General Hospital (MGH). To date, the Renegade Run has generated over one hundred thousand dollars to support the Faustman Lab which is focused on discovering and developing new treatments for type 1 diabetes, a vaccine for the reversal of long-term type 1 diabetes and other autoimmune diseases.
"Type 1 diabetes doesn't just involve the person living with the disease, it involves their entire family and support system," explained Type One's Paul Foti, "We are proud to create an event that provides our community with hope, with an outlet to come together virtually to raise awareness and funds toward a cure for type 1 diabetes and to assist those living with the disease."
How It Works
Individuals complete a four-mile run, jog or walk, along with a series of 20 challenging bodyweight exercises or "obstacles". Since the race is virtual, participants can participate from anywhere in the world and map their own outdoor course or choose to run/walk the four-miles indoors on a treadmill. For local runners, Type One offers the option of charted four-mile routes through local parks – and the closest thing to Renegade Run's traditional race. Simply choose the starting time and Type One will send the trail map to run.
Use any tracking method (GPS device/watch, tracking website or app, or treadmill reading), to track your run and record proof for submission. Once the race (including obstacles) is completed, participants share their time, photos and videos with Type One on social media or by email.
Virtual Teams
Friends, families and co-workers have the option to form Virtual Teams, which provides additional motivation to register and complete the obstacle race. To do so, begin the online registration process and you will be given an option to either form a team or join one that is already created.
T-shirts, Medals & Bibs
There will be free tech t-shirts and finisher medals shipped directly to those who complete the race along with a commemorative bib (to be printed out by registrant).
Prizes
Participants post their time with a photo or a video sharing their Renegade Virtual Run experience on social media. The runner with the most likes to their post will win $100! Must be verified.
Registration is now open and various registration levels are available. To register as a Renegade Virtual Runner ($40) and to view other levels and additional information, visit: https://typeonerenegaderun.com/register/
Type One Cares Campaign
"Type One Cares" is a campaign dedicated to building a community to assist those affected by type 1 diabetes with support, education and endowment, so they can live a powerful life beyond the diagnosis. To learn more about the campaign, visit https://typeonerenegaderun.com/send-a-kid-to-t1d-camp/
About Type One
Type One, a 501(c)(3) nonprofit organization, recognizes a world free of type 1 diabetes (T1D) and is dedicated to that future by raising public awareness and funds toward a cure through research. Type One was founded in 2012 by a group of South Shore residents to support their friend Tyson Sunnerberg, who was diagnosed with type 1 diabetes, an autoimmune disease in which a person's pancreas stops producing insulin, when he was 21 years old. On November 25, 2012, the first ever Renegade Run Obstacle Course Race was held raising awareness and funds toward a cure.
In addition to supporting the Faustman Lab at MGH, Type One donation and fundraising platforms help provide scholarships to local children with type 1 diabetes to attend type 1 diabetes camp, as well as providing qualifying recipients with assistance for diabetes management and treatment. For more information on the Faustman Lab at MGH and type 1 diabetes, visit www.faustmanlab.org
Type One is headquartered in Hingham, MA. Visit https://typeonerenegaderun.com