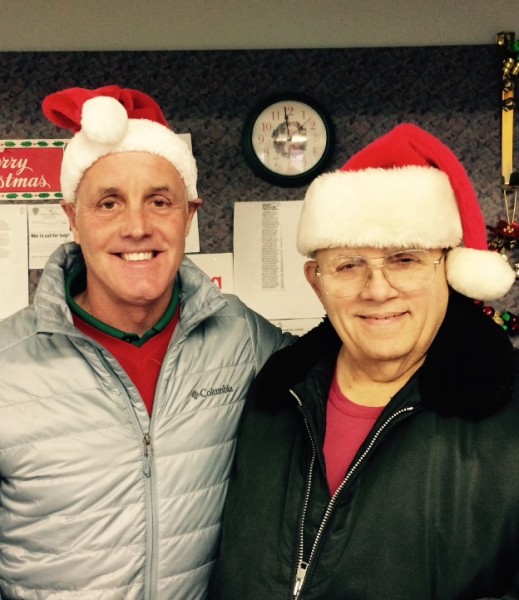 Jim Bunnell, The Talking Information Center's (TIC) newly appointed Executive Director, with George Earle, president of the Board of Directors of Marshfield Community Christmas. Bunnell and TIC producer John Shea delivered two large boxes of toys and clothing donated by TIC staff and volunteers to Marshfield Community Christmas.
Marshfield Community Christmas is a 100 percent volunteer-driven organization that provides gifts for children and food gift certificates to Marshfield families in need. For more information, visit www.MarshfieldCommunityChristmas.com.
About TIC
The Talking Information Center (TIC), a non-profit reading service located in Marshfield, MA, broadcasts 24 hours a day, 7 days a week, to visually-impaired and print-handicapped listeners including those suffering from AIDS, Cerebral Palsy, Multiple Sclerosis, stroke, paralysis or other physical illness that makes holding a publication or turning pages impossible. TIC programming may be accessed by specially tuned radio receivers or via live audio stream on the TIC website, www.ticnetwork.org.
TIC is a proud member of the International Association of Audible Information Services (IAAIS), and is also the hub of the Massachusetts Reading Network, broadcasting to all of Massachusetts as well as southern New Hampshire and Connecticut. TIC is located at 130 Enterprise Drive, (P.O. Box 519), in Marshfield, MA 02050. For more information visit www.ticnetwork.org or call 800-696-9505.
TIC Donates Toys and Clothing to Marshfield Community ChristmasRead More