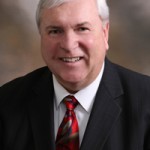 John McGovern, CPA, ABV, CVA and partner at Rodman & Rodman, P.C., an independent accounting and tax firm catering to small and medium sized businesses throughout New England, shared his vast knowledge at Bank of America's recent SBA 504 Loan Seminar held at Eastern Nazarene College in Quincy.
During the two-hour seminar, McGovern discussed the key role of the CPA in SBA 504 loans, as it relates to the depth of and the type of financial, due diligence, and personal information applicants need when applying for the loan.
McGovern reviewed the critical areas in which loan applicants can benefit from a CPA's expertise, which included the business plan, due diligence, SWOT (Strengths, Weaknesses, Opportunities and Threats) analysis, determining type of business entity, tax benefits and deductions, a cost segregation study, tax increment financing and financial statement terminology.
"This was an in-depth, hard-hitting seminar meant to address many of the questions asked by clients when they are considering obtaining an SBA 504 loan. Essentially, a CPA can identify, organize and provide the necessary documentation which helps to ensure that those seeking this type of additional financing, obtain it," noted McGovern.
McGovern plays a key role in Rodman & Rodman's audit, accounting and tax engagements, with a particular emphasis in pass-through entities such as S Corporations and Limited Liability Companies. He has over 28 years of experience in valuing privately held businesses in a number of different industries, is Accredited in Business Valuation (ABV) and a Certified Valuation Analyst (CVA) as well as a CPA.
At the seminar, McGovern was joined by fellow experts Lisa Alberti of Bank of America, Bruce Miller of Pierce Atwood, LLP and Laurie Driscoll of SEED Corporation.
"The Bank of America SBA 504 Seminar was well-received and we're planning to hold a second seminar in the near future," noted McGovern.
About Rodman & Rodman P.C.
Founded in 1961 and listed in the Boston Business Journal's "Top 50 Firms," Rodman & Rodman, P.C. provides accounting, tax and business services to small and medium-sized companies. The Rodman & Rodman "Green Team" is a specialized green energy and clean technology accounting and tax services practice within Rodman & Rodman, P.C. that serves "green" clients throughout the U.S. The company is Green Business Certified and has been named by "Accounting Today" as one of the "Best Accounting Firms to Work For" in 2010, 2011, and 2012. For more information, email info@rodmancpa.com, visit their website at www.rodmancpa.com or contact (617) 965-5959.