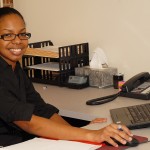 Old Colony Elder Services (OCES), the Brockton based regional elder services agency serving elders, their caregivers and families in 23 towns in the Plymouth county and Brockton areas, has recently promoted Cynthia Adjain, LSW to Home Care Supervisor.
Ms. Adjain served as a Care Manager for nearly four years at Old Colony Elder Services before her promotion to Home Care Supervisor. In her new role, Ms. Adjain will supervise five Care Managers and review, evaluate and approve a variety of services for their elder clients. She will maintain ongoing consultation between the Care Managers and ensure that their elder clients' needs are being met by monitoring each case manager's work.
Ms. Adjain holds Bachelor's degrees in Political Science and Spanish from the University of Massachusetts at Dartmouth and a Master's degree in Public Health Science from Northeastern University in Boston. She is a licensed Social Worker.
In addition to being fluent in Spanish, Ms. Adjain is also fluent in French and Haitian Creole. She understands Cape Verdean Creole and speaks it at an intermediate level.
Ms. Adjain does volunteer work during her free time. She has served as a legal intern at South Coastal Legal Services in Brockton and as a volunteer on the Brockton City Counselor political campaign in 2009.
A native of the Ivory Coast, West Africa, Ms. Adjain resides in Brockton.
About OCES
Incorporated in 1974, Old Colony Elder Services is a private, non-profit corporation designated as one of 27 Aging Services Access Points (ASAPs) in the Commonwealth of Massachusetts. OCES offers a number of programs to serve seniors, individuals with disabilities, their families and caregivers such as Family Caregiver Support; Adult Family Care; Supportive Housing; Nutrition; Money Management; Protective Services and Home Care.
OCES serves elders, their families and caregivers in 23 towns in Southeastern Massachusetts:
Abington, Avon, Bridgewater, Brockton, Carver, Duxbury, East Bridgewater, Easton, Halifax, Hanover, Hanson, Kingston, Lakeville, Marshfield, Middleboro, Pembroke, Plymouth, Plympton, Rockland, Stoughton, Wareham, West Bridgewater and Whitman.
The organization's mission is to provide services that support the dignity and independence of elders by helping them maximize their quality of life; live safely and in good health; and, prevent unnecessary or premature institutionalization.
In 2009, OCES was honored with the Metro-South Chamber of Commerce's "Economic Impact Award". The agency has 157 employees. For more information call (508) 584-1561 or visit the website at www.oldcolonyelderservices.org