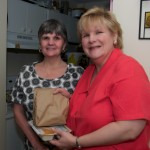 Each year, Old Colony Elder Services (OCES), an elder services agency providing supportive resources to seniors living in greater Plymouth county and the Brockton area, participates in the National March for Meals Campaign, sponsored by the Meals on Wheels Association of America (MOWAA) through their special program known as "Mayors for Meals Day".
This year, Brockton Mayor Linda M. Balzotti and Diana DiGiorgi, Executive Director of OCES delivered noontime meals to Meals On Wheels recipients throughout the Brockton area.
The "Mayors for Meals Day" campaign is designed to increase public awareness of the Meals On Wheels program, recruit new volunteers and encourage local fundraising by involving local mayors and other public officials.
"We have seniors who are homebound and unable to manage their grocery shopping or attend one of our congregate meal sites. The Meals On Wheels program is absolutely essential to them as they would otherwise not get a nutritious daily meal. Furthermore, the daily social contact is crucial to check on the safety of those living alone," noted OCES Executive Director Diana DiGiorgi.
The Meals On Wheels program serves individuals age 60 and over, as well as disabled persons under the age of 60. Both the Meals On Wheels program and the congregate meal sites rely on help from volunteers. For more information contact the Nutrition Department at Old Colony Elder Services (508) 584-1561.
About OCES
Incorporated in 1974, Old Colony Elder Services is a private, non-profit corporation designated as one of 27 Aging Services Access Points (ASAPs) in the Commonwealth of Massachusetts. OCES offers a number of programs to serve seniors, individuals with disabilities, their families and caregivers such as Family Caregiver Support; Adult Family Care; Supportive Housing; Nutrition; Money Management; Protective Services and Home Care.
OCES serves elders, individuals with disabilities, their families and caregivers in 23 towns in Southeastern Massachusetts: Abington, Avon, Bridgewater, Brockton, Carver, Duxbury, East Bridgewater, Easton, Halifax, Hanover, Hanson, Kingston, Lakeville, Marshfield, Middleboro, Pembroke, Plymouth, Plympton, Rockland, Stoughton, Wareham, West Bridgewater and Whitman.
The organization's mission is to provide services that support the dignity and independence of elders by helping them maximize their quality of life; live safely and in good health; and, prevent unnecessary or premature institutionalization. For more information call (508) 584-1561 or visit the website at www.oldcolonyelderservices.org.