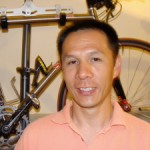 NORTH ATTLEBORO, MASS…
Todson, Inc., the U.S. distributor for Topeak cycling accessories and OnGuard Locks, recently hired Bert Low to the role of sales manager based out of the company's corporate offices in North Attleboro, Massachusetts. In this role, Low will be handling sales to national sporting good chains as well as Todson's network of wholesale distributors.
"We're delighted to welcome Bert to our team. He's someone many of us here at Todson have known for quite some time and it's great to have him on our team," said Neal Todrys, president of Todson, Inc.
Prior to working for Todson, Low was the national sales manager for Pedro's, working out of their corporate offices in Haverhill, Massachusetts.
"Through my previous jobs, I already knew quite a bit about Todson and the people who work here," said Low. "It's kind of neat to come to work on your first day and pretty much know everybody who works at your new company."
A Brooklyn, New York native, Low started in the retail industry while in high school, working for Paragon Sports. After nearly two decades in the New York market, he moved to Massachusetts in 2006. An avid cyclist in his spare time, Low participates in both on-road and off-road races, including cyclo cross.
Married, he and his wife Laura currently reside in Billerica with their twin children Bret and Kamryn.
World Class Sports Accessories
Todson, Inc., the exclusive importer for Topeak for the U.S., is committed to providing the best in sports accessories to consumers around the globe.  Over the past 16 years, Topeak has risen to become the top cycling accessories brand in the world. 
In addition to Topeak cycling accessories, Todson is the distributor of renowned OnGuard line, the toughest line of power sport, bike and gear security products in the world.  The OnGuard line is available only through authorized dealers. Recognized for their legendary anti-drill and pick-proof M-Cylinder mechanism and flat key lock system, OnGuard's locks, whether key or combination lock, are tested, approved and certified to guard bikes or power sport vehicles the world over.  OnGuard is the leading lock brand in Europe, in particular, Amsterdam, the bike theft capital of the world. 
Todson has successfully marketed recreational goods for more than 50 years. Now in its third generation of family ownership, Todson specializes in strategic sales and marketing, distribution, brand management and e-commerce. For more information about Topeak cycling accessories and OnGuard Locks, visit www.Todson.com or contact Todson at (800) 213-4561.  The company is located at 73 N. Washington Street, N. Attleboro, Mass.