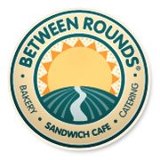 Between Rounds Bakery Sandwich Café, a fast-casual dining establishment with four locations in Connecticut, is offering an opportunity to local artists to turn a prominent wall at their renovated Manchester café into a work of art.
After a complete remodel earlier this year, Between Rounds Manchester café, located at 1540A Pleasant Valley Road, has a whole new look and feel. Now, the store's founders would like to put the finishing touches on their interior design with a breathtaking mural depicting historical buildings, monuments, landscapes, events and more – relevant to the town of Manchester.
The mural wall in the café measures approximately 10' high by 20' long. Artist(s) credit will be featured on the wall. Between Rounds will cover the cost of supplies for the mural.
Local artists and art students from Manchester Community College or any of the town's high schools are encouraged to submit a quality rendering of their vision for the mural, along with details about the medium to be used (oil, acrylic paint, etc.). The mural may be completed by an individual artist or collectively, for example, by a class of art students.
"This is an opportunity for local artists to showcase their talent on a very large canvas, and be seen by patrons from the Manchester community and beyond," explained Jerry Puiia, co-founder of Between Rounds.
As an example, Between Rounds has a beautiful mural menu in their South Windsor café.
Individuals and groups may submit a sketch for consideration or obtain more information by emailing jerry@betweenroundsbagels.com or calling (860) 291-0323.
About Between Rounds Bakery Sandwich Café
Founded in 1990, Between Rounds Bakery Sandwich Café is a unique bakery café and bagel shop renowned for their fresh, baked-on site bagels and baked goods as well sandwiches, wraps, salads, soups, specialty coffees and a unique line of giftware.  Between Rounds offers patrons an upscale, fast-casual dining experience with free Wi-Fi.
Between Rounds is also a wholesale bagel supplier to many independent grocers throughout the region. Between Rounds signature bagels are delivered to grocers fully baked so no additional labor is required of the bakery department.
Between Rounds locations include South Windsor, Vernon, Manchester and Tolland and franchise opportunities are available. Corporate headquarters are located at 19A John Fitch Blvd, Route 5 in South Windsor, CT. For more information about grocer partnership or their unique franchise offerings, contact (860) 291-0323 or visit www.betweenroundsbagels.com.