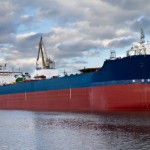 Boston based Emerson Bearing, a company that is renowned for their vast inventory of bearings and speedy 24/7 service to land-based customers, has identified a new niche of seafaring customers. As one of the largest providers of bearings and related products to OEM (Original Equipment Manufacturers) and MRO (Maintenance, Repair and Operations) markets nationally and internationally, Emerson Bearing Boston has seen their sales swell and found a new niche catering to port authorities and the marine spares industry.
"Shore to Ship" Fulfillment
Joe Falvey, Marketing Specialist oversees Emerson Bearing Boston's Marine Division. Typically, Falvey's point of contact for bearing orders is the ship's chancellor. Once an order is placed, Emerson Bearing often meets the ship to fulfill the order. The company has a growing New England customer base which includes a number of commercial shipping and fishing boat accounts, as well as a number of national and international customers such as Guam Shipyard, a large industrial contractor for the U.S. Navy.
The Marine Spares industry and Port Authorities require constant "uptime" as they exist in a 24/7 work environment. Whether bearings and related products are needed for driveshafts, overhead cranes, fork lift trucks or other applications, Emerson Bearing Boston's 24/7 service and inventory are critical to their operations.
Emerson Bearing provides Split Roller bearings, which allow for rapid bearing replacement especially at difficult to access locations, such as driveshafts. For the Sheave wheels, cranes and tensioner blocks, Emerson Bearing recommends the SL Sheave Wheel bearings because they provide extra high dynamic and static load ratings and come with rubber seals to prevent water and dust intrusion. Additional related products that Emerson Bearing carries include: Sheave Wheel Bearings, Split Spherical Roller Bearings, Craft Split Bearing, Ball Bearings, Roller Bearings, Leaf Chain, V Belts, Hydraulic Cylinders, Pumps, Oil seals and Isolator Seals.
To keep the unloading process from slowing down, Emerson Bearing Boston can provide cut to length Leaf Chain forklift chain on a 24-hour basis. Plus, the company's worldwide freight relationships better enable them to serve markets around the world – and literally meet a ship at port if necessary to deliver bearings.
According to Steve Katz, the company's president, "Some of our clients are halfway around the world and they know they can count on us. They have placed their confidence in us and we deliver, whether it's a large job or a small repair where they may just need oil seals. Accuracy on promised delivery dates is crucial. For customers such as Guam Shipyard, the vessels are scheduled to arrive in port at a certain time and once they pull in, the clock starts. Everything runs on a schedule and there are repercussions for any delays. That's where we really set ourselves apart from competitors; we're efficient, cost-effective and reliable."
To reach Joe Falvey in the Marine division, contact 866-995-8760 or email jfalvey@emersonbearing.com.
The Emerson Bearing Difference
In a proud tradition, the same families that started the company in 1957 keep Emerson Bearing rolling by specializing in bearings for OEM and MRO markets throughout the world. Emerson Bearing's highly knowledgeable staff, housed in their 23,000 square foot facility provide bearings ranging in size from 3mm to tunnel-boring 15-foot-diameter giants.
Emerson Bearing provides solutions to a variety of industries including: aggregate, concrete, mining, machine tools, electric motor repair, marine, material handling, metal processing, packaging, food processing, paper converting, printing, wind/power generation, recreation, heavy construction, robotics, automation, transportation, wood products, wastewater treatment, pump, compressor and oil field.
Emerson Bearing offers customers a one-stop shopping experience. With an online product catalog with over 3 million bearings; a vast inventory of bearings; worldwide sourcing; a fixed price program; a knowledgeable staff dedicated to delivering; same day shipping and 24/7 service, Emerson Bearing has become the leading provider of bearings to OEM and MRO markets in the U.S. and is the sister company of Action Bearing. Emerson Bearing maintains headquarters at 201 Brighton Ave. Boston, MA. For more information, contact 617-782-1400 or toll free, 800-225-4587, email info@emersonbearing.com or visit www.emersonbearing.com.