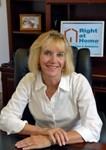 Holiday visit or wellness check? The answer is both. The holidays are often a time for happy reunions with aging parents, aunts and uncles who you haven't seen in months or perhaps even years. A holiday visit is the perfect time to assess how your loved one is doing because you are able to look for visual clues indicating signs of decline that you would not be able to glean through a telephone call.
Libet Callahan, RN, BSN, president of the South Shore office of Right at Home, providers of non-medical in-home care services to seniors and disabled adults throughout the South Shore, advises family members of the 10 signs to watch for that are a cause for concern:
Weight loss
Not maintaining his/her personal appearance and hygiene
Not remembering when to take medication and not knowing what condition each medication is treating
Not eating nutritious meals or not eating at all
Food in the refrigerator or on the shelves that is past its expiration date or molding
Not maintaining the home by doing chores such as cleaning bathrooms, washing floors or regular vacuuming
Not paying bills – unpaid or unopened piles of bills are a red flag
Not taking proper care of a pet
Avoiding or having difficulty ascending/descending steps
Limiting contact with or lacking an interest in the outside world
According to Ms. Callahan, "Ultimately, a single, isolated sign doesn't necessarily mean your loved one is in trouble. Sometimes you can just feel a change in a person even if you can't articulate it. If there are numerous signs and you believe that your loved one may be having difficulty, you need to address it with your loved one and other close family members. Your aging loved one may be in need of a number of services – from companionship to personal care and homemaking – and Right at Home can help."
Single-service care options such as meals-on-wheels or an adult daycare may be enough. But, oftentimes a multi-service provider such as Right At Home is needed to provide the companion, homemaker and personal care services that enable seniors and those with disabilities to remain in the comfort of their home for as long as possible.
If you have concerns about a family member, take Right At Home's online Care Assessment by visiting http://www.rightathome.net/southshore/. For questions or more information, contact Right At Home at 781-681-3545.
About Right At Home
Right at Home provides non-medical in-home care services to seniors and disabled adults throughout the South Shore. Right At Home is among the first in the state to earn Accreditation from the Home Care Alliance of Massachusetts. As a private-pay home care agency, Right At Home can provide services in settings other than the home, such as in assisted living facilities, continuing care retirement facilities, skilled nursing facilities, nursing homes, rehabilitation centers and hospitals.
Right at Home provides care services of companionship, homemaking, physical assistance, hygiene and wellness. In addition, Right At Home accommodates clients in special care situations providing home care for Alzheimer's and other dementia, osteoarthritis, hypertension/stroke, diabetes, heart disease, neuromuscular diseases and disorders, cancer recovery, hospice/palliative care support, mental health, traumatic brain injury and paraplegia/quadriplegia. All Right At Home caregivers are fully insured and bonded, must pass a vigorous background check, complete a training program and pass a competency test before being placed with a client.
The company serves the following areas: Abington, Braintree, Bridgewater, Brockton (East Side), Carver, Cohasset, Duxbury, East Bridgewater, Halifax, Hanover, Hanson, Hingham, Holbrook, Hull, Kingston, Marshfield, Middleboro, Milton, Norwell, Pembroke, Plymouth, Plympton, Randolph, Rockland, Scituate, Wareham, Weymouth and Whitman. Right at Home has offices located at 800 Hingham Street, in Rockland, MA and 38 Resnik Road in Plymouth, MA. For more information contact 866-681-3545 or visit the website at http://www.rightathome.net/southshore/.