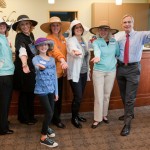 More than 75 attended the recent "Sunbeams and Snowflakes" Day of Beauty and Open House fundraiser held last week at South Shore Skin Center and Spa in Plymouth to benefit the Children's Melanoma Prevention Foundation (CMPF).
A total of $15,000 was raised for CMPF. South Shore Skin Center and Spa personnel generously donated their services for the event. Funds were raised from aesthetic treatments, product sales, a silent auction, raffles and individual donations. The funds will support CMPF's innovative school-based program, "SunAWARE", which is delivered free of charge to children from kindergarten through twelfth grade in Massachusetts schools.
Representatives from CMPF were on hand throughout the day to provide information about the foundation's mission and program to protect children from skin cancer. Guests were able to shop for luxurious holiday Spa gifts and take advantage of amazing "deals" through the silent auction. Raffle prizes were also awarded.
"We had a terrific turnout. We're so grateful for the generous support of everyone who attended and the providers at South Shore Skin Center and Spa," noted Maryellen Maguire-Eisen, RN, MSN, Director of CMPF. "The funds raised are essential to the growth and continuity of our foundation's SunAWARE educational program."
About the Children's Melanoma Prevention Foundation
Established in Hingham in 2003, the CMPF is a non-profit educational foundation that is dedicated to teaching children and their caretakers safe and proven methods of sun protection and skin cancer prevention. CMPF delivers a comprehensive sun safety and melanoma awareness program, free of charge, to children in elementary and secondary schools in Massachusetts.
About South Shore Skin Center and Spa
South Shore Skin Center and Spa is one of Massachusetts' most progressive dermatology practices offering a wide range of medical, surgical and cosmetic services. South Shore Skin Center and Spa is a 2011 Best of South Shore Living Winner.
Founded in 1984, South Shore Skin Center and Spa is a unique team of physicians, physician assistants, nurses, medical assistants, surgical assistants, and licensed aestheticians who are all specialists in dermatology and share a passion for excellence and a commitment to providing the highest level of care to both children and adults in the greater Boston area. In addition to the medical dermatology office and Mohs Surgical Unit for skin cancer, South Shore Skin Center and Spa offers cosmetic dermatology treatments for wrinkles, age spots, acne scarring, birthmarks, hair removal, tattoos and more using the Fraxel re:store DUAL and Fraxel re:pair lasers, ePrime, Candela VBeam, Gentlelase, Gentle YAG, and Alex lasers. The practice also offers therapeutic massage and a full range of affordable anti-aging services including Botox, Restylane, Perlane, Juvederm and other wrinkle fillers; volumizers such as Radiesse and Sculptra; Thermage; microdermabrasion; medical grade facials, micropeels and chemical peels.
South Shore Skin Center and Spa is located at One Scobee Circle, Unit 3, in Plymouth, Mass. (508) 747-0711 and at 223 Chief Justice Cushing Highway, Suite 202, in Cohasset, Mass. (781) 383-3340. For more information, visit the website at www.southshoreskincenter.com.