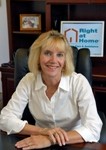 With the arrival of Valentine's Day on February 14, February has been designated as the month of love. But dark chocolate isn't the only sweet gift that is good for the heart – building strong relationships and socializing with others play a vital role in living a longer and healthier life. The medical profession has been telling us for years that eating right and getting regular exercise will improve longevity. However, many physicians are now saying that maintaining positive relationships also can contribute to keeping people healthy. In numerous studies, researchers have found that people who have strong friendships and have the opportunity to socialize with others, age better, recover from illness more quickly, have stronger immunity and live longer, more personally fulfilling lives.
The connection between relationships and life expectancy is not a new theory. In a recent study at Brigham Young University and the University of North Carolina at Chapel Hill involving more than 300,000 men and women across the developed world, researchers found that those who were considered to have poor social connections and limited opportunity for socialization had an average of 50 percent higher odds of death (an average of 7.5 years) than those with "robust" social ties and regular socialization. That is a significant difference not only in longevity, but also, in quality of life.
Among the aging, the lack of ongoing relationships and regular socialization is a common concern. For many aging adults their relatives, neighbors and friends move, go into long-term-care or die, leaving them isolated and alone. One health problem reported by Medical News Today links the risk of developing Alzheimer's disease in old age to social isolation. Loneliness was linked to lower levels of cognitive function as well as more rapid decline of general physical function. People who identified themselves as "lonely" experienced double the risk of developing Alzheimer's than those who described themselves as "least lonely". It is estimated that 28 percent of Americans older than age 65 live alone, which exacerbates this problem. It is important for seniors and their caregivers to be aware of the potential for social isolation and how to create opportunities to develop personal bonds with others.
Here are some considerations to minimize senior isolation and loneliness:
Encourage your aging loved one to participate in local activities at their church, synagogue or senior center. Many senior centers offer transportation to and from the facility at low or no cost.
Coordinate with siblings and relatives to ensure that your loved one receives a visit or at least one phone call daily.
Adult day care centers can be a great resource for socialization and cognitive stimulation.
Senior Homecare agencies like Right at Home can provide vetted companions that offer socialization as well as help with food preparation, light housekeeping and transportation to doctor appointments, shopping or just to go visit a friend.
Keep in mind that love from friends and family could be the key to ensuring a longer, happier life, not just on February 14, but all year long. Remember your aging loved ones this Valentine's Day by giving a cherished gift – your time.
About Right At Home
Right at Home provides non-medical in-home care services to seniors and disabled adults throughout the South Shore. Right At Home is among the first in the state to earn Accreditation from the Home Care Alliance of Massachusetts. As a private-pay home care agency, Right At Home can provide services in settings other than the home, such as in assisted living facilities, continuing care retirement facilities, skilled nursing facilities, nursing homes, rehabilitation centers and hospitals.
Right at Home provides care services of companionship, homemaking, physical assistance, hygiene and wellness. In addition, Right At Home accommodates clients in special care situations providing home care for Alzheimer's and other dementia, osteoarthritis, hypertension/stroke, diabetes, heart disease, neuromuscular diseases and disorders, cancer recovery, hospice/palliative care support, mental health, traumatic brain injury and paraplegia/quadriplegia. All Right At Home caregivers are fully insured and bonded, must pass a vigorous background check, complete a training program and pass a competency test before being placed with a client.
The company serves the following areas: Abington, Braintree, Bridgewater, Brockton (East Side), Carver, Cohasset, Duxbury, East Bridgewater, Halifax, Hanover, Hanson, Hingham, Holbrook, Hull, Kingston, Marshfield, Middleboro, Milton, Norwell, Pembroke, Plymouth, Plympton, Randolph, Rockland, Scituate, Wareham, Weymouth and Whitman. Right at Home has offices located at 800 Hingham Street, in Rockland, MA and 38 Resnik Road in Plymouth, MA. For more information contact 866-681-3545 or visit the website at http://www.rightathome.net/southshore/.