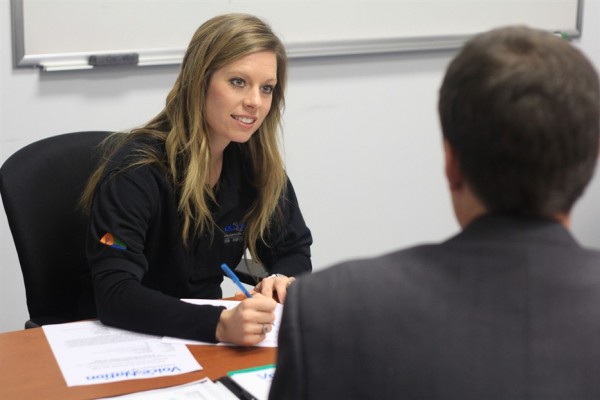 VoiceNation, the industry leader in live answering and virtual receptionist services, had a tremendous turnout of over 120 job seekers at their recent job fair held at Goodwill of North Georgia's Oakwood Career Center.
The job fair was part of VoiceNation's recruitment campaign entitled "It's Your Turn to Answer the Call". The company is looking to fulfill Customer Service Representative positions for full and part-time shifts at their expanding call center in Buford. VoiceNation is one of the fastest growing answering services in the industry. Customer Service Representatives are needed to answer inbound calls, take orders, screen calls and provide event registration for companies from various industries including legal, healthcare and hospitality.
VoiceNation had a 90 percent interview attendance rate, which far exceeds the average attendance rate of 56 percent by normal recruiting standards. Although these numbers are significant, VoiceNation is highly selective in hiring, ensuring the best possible fit for the organization and their clients.
"We received well over 100 resumes within a week's time, and more than one third of all the applicants we interviewed were scheduled for a second interview. We're very pleased with the success of the job fair and we'd like to work with Goodwill of North Georgia Oakwood Career Center again in the near future," said Jay Reeder, founder and president of VoiceNation.
Goodwill® of North Georgia
The mission of Goodwill of North Georgia is to put people to work. We have been providing services in the region for more than 85 years. In fiscal year 2012, we provided job training and employment services to more than 30,000 people and helped approximately 10,224 people find jobs or start new businesses. Our organization currently operates 42 stores and more than 60 attended donation centers. Revenues generated from Goodwill's retail program help fund our job training and placement programs. Last year, we processed more than 1.8 million donations.
About VoiceNation
VoiceNation is America's telecommunications leader for virtual PBX, voicemail and innovative Next Generation call centers. Named a "Top Provider in Industry" by PC World, VoiceNation provides live answering service and call center solutions utilizing the latest in proprietary technology to deliver high quality call answering services at the lowest cost to their customers. In this way, VoiceNation enables business of all sizes to compete in the marketplace with 24-hour availability that adapts to any situation.
Founded in 2002, VoiceNation is a privately-held company that serves more than 40,000 customers including FEMA, Blue Cross/Blue Shield, Dell, AIG and the U.S. Coast Guard. The company also provides qualified non-profit, tax-exempt charities with access to voicemail, faxmail and other specialized communication services at reduced cost through their Care2Call outreach program.
To learn more about VoiceNation, visit http://www.qualityansweringservice.com.