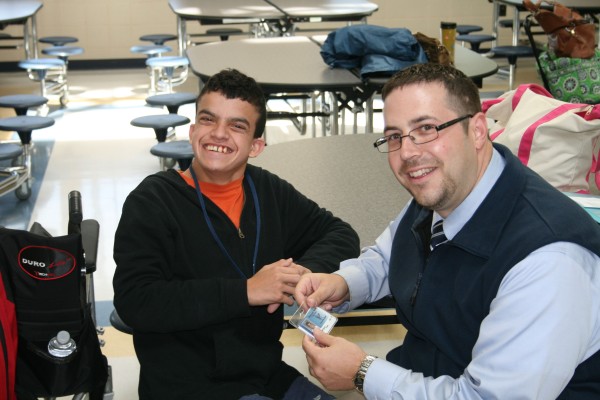 PLYMOUTH, MA…
Since 2007, Tracy Chevrolet Cadillac has recognized dozens of students at Plymouth North and South high schools for going above and beyond in both the classroom and in the community. Tracy kicked off 2013-14 Driven Student Awards program by honoring the largest group of students in the history of this program: the Best Buddies of Plymouth North High School.
Best Buddies® is an international nonprofit organization that creates opportunities for one-to-one friendships, integrated employment and leadership development for people with intellectual and developmental disabilities. More than 50 students participate in the Best Buddies program at Plymouth North High School.
"We started the Best Buddies program back in 2008 as a way to get our special needs students involved and to feel more a part of the community here at North," said Christine Belmonte, a special needs teacher at North. "Study after study has revealed that special needs students that have a more active social life are happier, healthier and live longer. The Best Buddies program makes that happen."
Adds North's Best Buddies program Co-Founder Barbara Gravell-Perry, "Whether you are one of the buddies, a peer or an associate, I think all the students gain something from being in this program."
The program works with one of the buddies being paired off with a peer. The peer then has the responsibility to have at least two contacts per week with their buddy. That can be a phone call or an in-person visit. Associates are those who don't necessarily have the time to make a weekly commitment but participate when they can.
"This is not a program for those who are not committed," said Alex Wrack, student president of the Plymouth North Best Buddies program.
As part of the recognition of being selected Driven Students of the Month, the students in the Best Buddies program received a pizza party, courtesy of Tracy Chevrolet Cadillac. More than 50 students and faculty attended.
"This was by far the largest pizza party we've had since we started doing the Driven Student program. For what these young people are doing, they are most deserving of this recognition," said Jeff Tracy, president of Tracy Chevrolet Cadillac. "
Tracy Chevrolet Cadillac's Driven Student program recognizes Plymouth high school students for their performance and achievements in and out of the classroom. Awarded on a monthly basis, recipients are selected by faculty and advisors at the student's given school.
So easy at Tracy Chevrolet Cadillac
For more than 80 years and three generations of dealers, the Tracy family has made it so easy for customers on the South Shore and greater Plymouth area to purchase new and used automobiles. Since its beginnings in 1992, Tracy Chevrolet Cadillac has emphasized first-rate customer service and straightforward, bottom-line pricing with fair trade-ins every time–without the games or gimmicks you find at other dealerships. For more information on new and used trucks and automobiles, you can go to www.tracymotors.com or stop by the dealership, conveniently located at 137 Samoset Street, just off exit 6 on Route 3. For more information, or to make a service appointment, you can also call (508) 830-0101.