Michael Carroll, a Gloucester resident, has been named Office Manager at Winters Company Plumbing, Heating & Cooling of Cambridge.
Carroll, who joined Winters Company in October of 2008, has been promoted to Office Manager. He started his career with Winters as a Customer Service Representative and worked his way up to Service Manager and then Call Center Manager before becoming the Office Manager. In his new role, Carroll will oversee office operations, accounts receivable, dispatch management, customer service and inside sales management. He'll also be responsible for all sales and service reporting. Carroll has been trained in "The Winters Way" as well as at the Nexstar CSR/DSR and Service Systems programs.
Previous to Winters, Carroll was employed at Ski Market, the specialty sporting goods store, for seven years. Carroll served as Ski Market's General Manager in Woburn MA and previous to that, he was the General Manager of Nashua and Manchester NH stores. Prior to that, he was the Assistant Manager in the Danvers store. Carroll won a number National and regional sales awards of awards.
Carroll graduated from Christian Brothers Academy high school in Albany, NY which participates in U.S. Army's JROTC program. He holds an Associate in Applied Science in Business Administration from Hudson Valley Community College in Troy, NY and a Bachelor of Science degree with a concentration in finance from the College of Saint Rose in Albany, NY.
He is a native of Albany, NY.
"Mike has worn just about every hat at our corporate office and this promotion is well-deserved," noted Tim Flynn, president of Winters Company.
About Winters Company Plumbing, Heating & Cooling
Since 1994, Winters Company Plumbing, Heating & Cooling has specialized in providing home services of plumbing, heating, ventilation and air conditioning (HVAC), and kitchen and bath remodeling projects to thousands of homeowners throughout Eastern Massachusetts.
Winters Company is the largest residential plumbing company in the state, with 20 trucks on the road and a full staff of licensed and insured plumbers and technicians. In addition to 24 hour service and lifetime guarantees on many of their services, Winters Company has standardized their services, which ensures that every customer receives the same high quality workmanship delivered in the same professional and courteous manner.
Winter Company's trusted professionals are trained to care for a home 's systems as well as the home and homeowner. All of Winter's technicians undergo drug-testing and background checks, ensuring that only first-rate providers comprise Winter's team.
Winters Company has been honored with a number of awards over the years including the Local Torch Award for Excellence from the Better Business Bureau and Angie's List Super Service Award. Winters Company is headquartered in Cambridge, MA. For more information, call (617) 484-2121 or visit the website at www.wintersplumbing.com.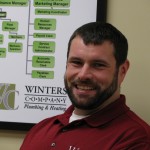 Michael Carroll Named Office Manager at Winters Company Plumbing, Heating & CoolingRead More