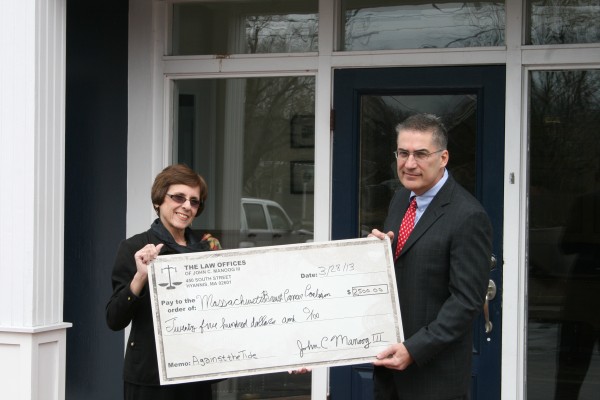 HYANNIS, PLYMOUTH and ROCKLAND, MA…
As a personal injury attorney, John C. Manoog III is quite familiar with going against the tide. He often takes cases to trial that many other lawyers would have settled out of court for less of an award.  Perhaps that best explains his firm's sponsorship of the Massachusetts Breast Cancer Coalition's Against the Tide fundraiser; contributing $5000 over the past two years.
"You simply can't choose a tougher foe than cancer and there is no easy path towards defeating a disease as devastating as breast cancer," said Manoog. "We commend Massachusetts Breast Cancer Coalition for taking on this deadly opponent and are happy to support the Against the Tide effort.
For the past fourteen years, the Massachusetts Breast Cancer Coalition (MBCC) has held the annual Against the Tide swim, walk, run, kayak fundraiser. The morning event includes a competitive and recreational swim, kayak, walk, and run components, as well as an Aquathlon consisting of a competitive 1-mile swim and your choice of a competitive 5K or 10K run.
The Metro Boston Against the Tide event will be held at DCR's Hopkinton State Park on Saturday, June 22nd. The annual Cape Cod Against the Tide event will be held at DCR's Nickerson State Park on Saturday, August 17th. Both events start at 7:00am and end at 12:00 noon. Each participant must raise $175 to take part.
"John Manoog and his entire staff are true humanitarians, I am deeply grateful to John for his generous commitment in help us work towards our goal of breast cancer prevention. It is because of sponsors like Attorney Manoog that we are able to continue our education and advocacy efforts to reduce exposure to environmental contaminants linked to breast cancer. He is a credit to his community for helping the state's leading breast cancer organization to end the legacy of breast cancer for future generations," said Cheryl Osimo, MBCC's executive director.
According to the MBCC website:
In 2008, Massachusetts had the highest incidence rate of breast cancer in the U.S.
National data for 2009 (which is the largest available) reports an incidence rate for breast cancer at 130.3 per 100,000 in Massachusetts compared to an average rate of 123.1 for the U.S. as a whole.
Massachusetts is in the top quartile of incidence for breast cancer in the U.S., a group that includes Colorado, Connecticut, Washington DC, Hawaii, Minnesota, New Hampshire, New Jersey, North Dakota, Oregon, Pennsylvania, Rhode Island and Washington.
To register for Against the Tide, please visit www.mbcc.org/swim or call 800-649-MBCC for more information.
About The Law Offices of John C. Manoog III 
The attorneys at The Law Offices of John C. Manoog III specialize in helping clients  recover their losses in all types of personal injury cases including automobile accidents, slip-and-fall accidents, dog bites, wrongful death, product liability, construction site accidents, as well as obtaining the benefits needed in workers compensation cases. The Firm also offers criminal defense services for clients. Initial consultation is free. The Law Offices of John C. Manoog III has two locations, 450 South Street in downtown Hyannis and 18 Main Street Extension in Plymouth center for added convenience.
For more information, visit www.manooglaw.com or call toll-free 888-262-6664.
Law Offices of John C. Manoog sponsors Massachusetts Breast Cancer Coalition's "Against the Tide" fundraiserRead More