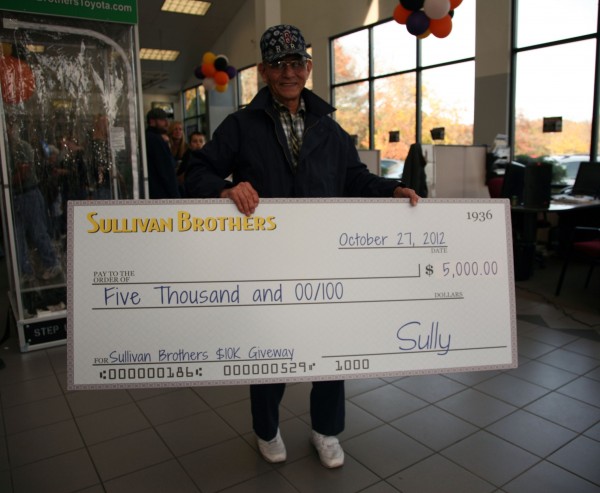 KINGSTON, MA
Arlito Cavan was a fan of Sullivan Brothers Toyota long before winning the top prize of $5,000 at the dealership's recent cash giveaway. The Carver resident has purchased 10 cars from the dealership over the years. As the winner of the largest cash award at Sullivan Brothers Toyota's cash giveaway event, Cavan is not likely to purchase a car anywhere else.
"When we sell people an automobile, it's more than just a business transaction. You develop a personal relationship with that customer," said John Sullivan, who founded the Sullivan Brothers dealerships with brothers Quin and Brian in Kingston in 1986. "I think you can see that by the reaction of John Faucett, Arlito's sales consultant.  I think he was happier for Arlito than Arlito was."
The Sullivan Brothers Toyota cash giveaway took place on Saturday, October 27. To be eligible for one of the cash prizes–$5,000, $3,000 and $1000–entrants had to test drive an automobile prior to the event. Carol Alves won the $3,000 award, while Jaime Little, a single mother of three, won the $1,000 prize.
"Ms. Little winning was another great story. She came in  to test drive a car just for a chance to win some money. When she came into the office to receive her award, she was visibly shaken by her good fortune," said Sullivan. "That's what makes this cash giveaway unique. People walked out of here with some serious cash just in time for the holidays."
In addition to the grand prize drawings, several entrants were selected to stand in a cash machine, AKA "The Blizzard of Dollars", and grab as much cash as possible in 30 seconds. The following people won cash out of the cash machine:
Julie Gulterson – Kingston
Ken Vandal – North Dartmouth
Bill Wennerberg, Plymouth MA
Karen Young, Plymouth MA
Estelle Blake, Sagamore Beach
Joel Morgan, Plymouth
One attendee gave away her chance at the Blizzard of Dollars to Jacob Grant, a 12-year-old Plymouth resident, who proceeded to take $140 out of the cash machine.
Overall, more than 150 people attended the cash giveaway. Cat Country Radio (WCTK, 98.1 FM) broadcasted on site and handed out t-shirts and CDs to attendees. Whether it was cash, a CD, T-shirt or just a smile, everybody left a winner.
Sullivan Brothers Toyota is located at 5 Cranberry Road, Kingston MA.  781-585-1300 or online at www.SullivanBrothersToyota.com.
Carver resident Arlito Cavan the big winner at Sullivan Brothers Toyota's $10,000 cash giveaway.Read More