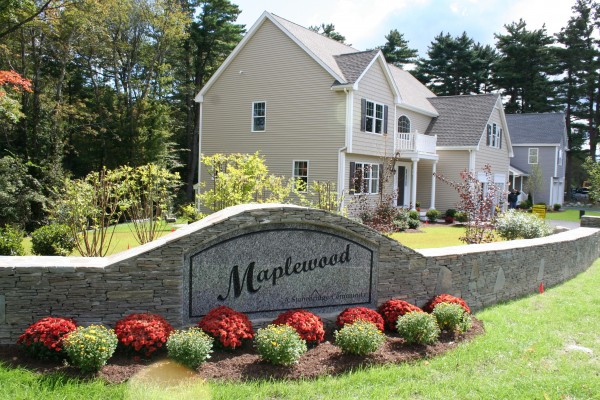 ROCKLAND, MASSACHUSETTS
A total of 4,820 single-family homes sold in May, up from 4,540 the same month a year ago. That increase marks the highest number of transactions recorded for May since 2006 when there were 4,948 sales. In fact, May is the first month since January that sales volume increased year-over-year. While this is good news on the surface, some Massachusetts real estate professionals see the glass as half-empty, particularly with a dwindling inventory of available homes.
According to the Massachusetts Association of Realtors, there is a 4.7-month supply of single-family homes for sale. The National Association of Realtors states that a balanced market typically has about a six-month supply. Anything less than that tips the market in favor of sellers.
"Out of 220 units we initially had on the market, we are almost sold out with only seven condos left," said Mike Ojjeh of The Gables Condominium in Abington, Mass.
"If we don't have the inventory to sell, we won't be able to continue improving," said Kimberly Allard-Moccia, the president of the Massachusetts Association of Realtors and broker-owner of Century 21 Professionals in Braintree.
The dwindling inventory has created another trend: buyers exploring new construction. Rockland, Massachusetts' Maplewood Estates, constructed by Stonebridge Homes, reports a dramatic increase in new homes built or scheduled to be built since November 2012.
"We've built or begun building 15 new homes at Maplewood since the end of the last year," said Rami Itani, business manager for Stonebridge Homes, which is based in Easton, Mass.  "What's been interesting, particularly at Maplewood Estates, has been the variety of people who have come in looking to buy: retirees, singles, young families. Our home styles do cater to all these demographics, but I think another part is the dwindling inventory of quality homes available and how quickly those go when they hit the market."
Located off Webster Street in Rockland, Maplewood Estates offers a rural wooded setting with easy access to major highways and is situated fairly close to Rockland's brand new middle school and renovated high school.
Maplewood Estates is set on 30 acres of natural wooded land and is zoned for 72 homes (there are presently 32 available home sites to build on). Featuring quality construction and luxurious amenities, Maplewood Estates offers 12 floor plans to meet buyers' needs. Those include:
The Arlington (1720 square feet)
The Arlington III (2064 square feet and four bedrooms)
The Ashland (1844 square feet)
The Ashland III (2200 square feet)
The Beacon (1602 square feet, one level living  and two bedrooms)
The Berkeley (1881 square feet)
The Clarendon (1812 square feet with first floor master bedroom)
The Dartmouth (2100 square feet)
The Dartmouth II (2100 square feet)
The Exeter (2447 square feet)
The Fairfield (2383 square feet)
The Gloucester (2749 square feet)
The Redwood (2054 square feet with first floor master bedroom)
The Newbury (1695  square feet)
Prices for homes at Maplewood Estates start at $384,000and model homes are available for tours, Monday through Friday, by appointment. Maplewood Estates hosts open houses on Saturdays and Sundays, 1pm to 4pm. Coldwell Banker Residential Brokerage in Norwell is the official realtor for Maplewood Estates. You can schedule a tour or request more information by contacting Nancy Kleber at 781-659-7955 or Nancy.Kleber@NEMoves.com.
Interested parties can also get more information, including plans, by visiting www.newhomesatmaplewood.com.
About Stonebridge Homes, Inc.:
For more than 20 years, Stonebridge Homes and its team, now based in South Easton, Massachusetts, have built many residential communities throughout the northeastern United States, including Maplewood Estates (www.newhomesatmaplewood.com) in Rockland, Mass. and The Gables Condominiums (www.thegables.net) in Abington, Mass. More recently, Stonebridge Homes has been focusing on building and managing construction in towns of southeastern Massachusetts, including Abington, Easton, Raynham, Taunton, Franklin, West Bridgewater, Pembroke, Rockland, Westport , Whitman and Norwell. The styles of these communities have varied from imaginative condominiums to custom single‐family homes designed by its award‐winning in‐house architect, whose specialty is customizing dream homes for individuals, couples and families. Each development is built with the same commitment for quality and satisfaction.
For more information, please visit www.stonebridgehomesinc.com or call or call 508.230.2300.
Single-family homes up; inventory down. What's next in Massachusetts real estate?Read More