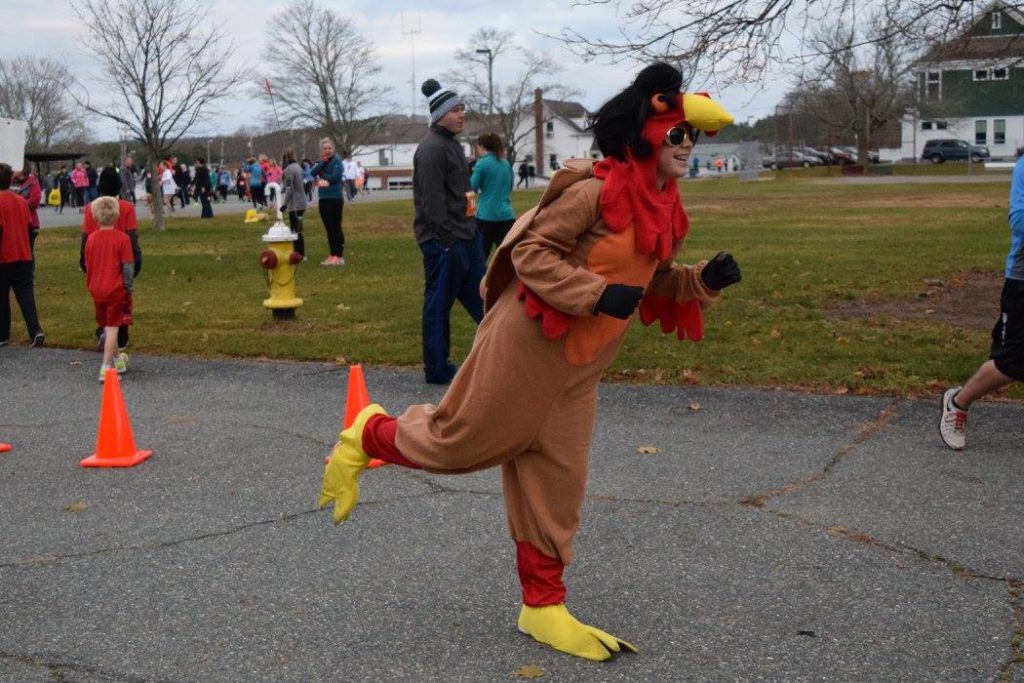 The Boys & Girls Club of Marshfield will host their 4th annual Thanksgiving Day road race on November 22, 2018.
Gather friends, family and neighbors together to race in the South Shore Turkey Trot, a four-mile, family-friendly road race event with younger age categories, costumed runners, and team running! Elvis Turkey, the mascot encourages organizations and groups from the community to form teams, create themes, and dress in costumes to celebrate the holiday.
The event benefits the Boys & Girls Club of Marshfield and raises money for much needed programming and scholarships. Nearly $15,000 was raised at last year's race.
"Last year we had more than 500 runners from over 17 States and 64 different towns in Massachusetts and this year we expect that number to nearly double," said Jim Bunnell, Executive Director. "Proceeds from this great event provide much needed resources for the Boys & Girls Club of Marshfield programs and scholarships. Our afterschool program and summer camp serves hundreds of working families from all across the South Shore and provides a fun, safe and engaging place to learn and grow."
South Shore Turkey Trot start and finish line location is South River School, 59 Hatch Street, Marshfield, MA, 02050. The course is flat and quiet through the scenic back roads of Marshfield. Registration on race morning begins at 6:30 a.m. and the race starts at 7:30 a.m. Cost of registration (as of November 10th) is $35.
All registrants will receive a custom event long sleeve t-shirt. Participant goodie bags will contain promotional items from sponsors. Water for all runners will be provided by 99 Restaurants, and coffee and bagels will be provided by Dunkin' Donuts.
Free Pie for Race Finishers
Top Finishers will receive awards, and every finisher of the race will receive a free apple pie compliment of Roche Brothers Supermarkets.
Support the Marshfield Food Pantry
Runners and spectators are encouraged to bring a non-perishable food item on the day of the race for donation to the Marshfield Food Pantry.
Sponsorships are available and range from $100- $5000.  For more information about South Shore Turkey Trot, visit www.marshfieldbgc.com/turkey_trot
To register for the race, visit http://events.racewire.com/south-shore-turkey-trot/
About Boys and Girls Club of Marshfield
The Boys & Girls Club of Marshfield (the Club) is a youth development organization providing programs and services to children and families throughout the greater South Shore community. The Club's mission is to enable and inspire all young people to realize their full potential as productive, caring, responsible citizens as well as become tomorrow's capable leaders. The Club provides programming opportunities in the Boys & Girls Club of America's (BGCA) five core areas including leadership, education, health, arts, and fitness.
Currently, the Club serves hundreds of families with children ranging in age from 6 to 18 years old, providing afterschool, vacation week and summer programs, as well as youth athletics, teen, social recreational and leadership opportunities. For more information, visit their website www.marshfieldbgc.com or call 781-834-2582.