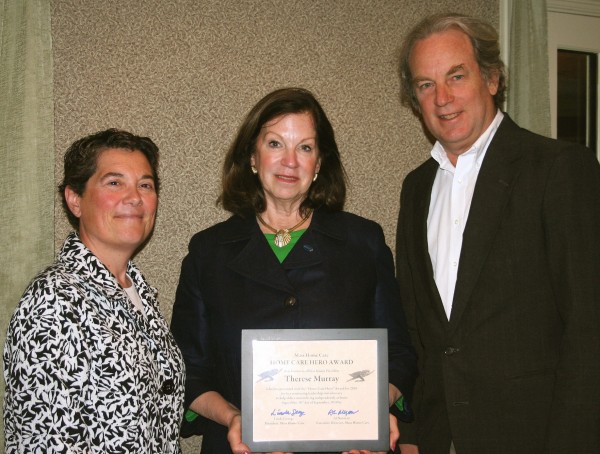 Senator Therese Murray was the keynote speaker at a recent Legislative Breakfast hosted by Old Colony Elder Services (OCES) and held at the John Carver Inn in Plymouth. Old Colony Elder Services' (OCES) is a non-profit corporation which serves residents in 23 towns in the greater Brockton and Plymouth areas. OCES is one of 27 similar agencies designated by the Executive Office of Elder Affairs as an Aging Services Access Point (ASAP).
More than 60 individuals from a number of elder service agencies were in attendance along with State Representatives Vinny DeMacedo, Susan Gifford and Tom Calter; Sheriff Joseph D. McDonald, Jr.; and OCES' Board of Directors. Plymouth Selectman Mathew Muratore, Caitlin Kenerson from Representative Christine Canavan's office, and Lisa Budge Johnson from Sheriff McDonald's office also attended. Senate President Murray spoke of the challenges to human service agencies delivering services to elders and disabled individuals in the current economic climate and she elaborated on how the Fiscal 2011 budget will impact funding for the upcoming year.
"We're in a tough economic climate and seniors are especially at risk," noted Senator Murray addressing OCES and elder service representatives in the audience. "We're doing the best we can and we thank you for all you do."
A member of the Massachusetts State Senate since 1993 and elected President of the Senate in 2007, Senator Murray has worked to improve the lives of seniors throughout her career. Following her speech, Al Norman, Executive Director of Mass Home Care presented Senator Murray with a "Home Care Hero" award.
Diana DiGiorgi, Executive Director of OCES who is also the Vice President of Mass Home Care said, "We want to thank Senator Murray for everything she has done and continues to do for elder consumers."
About OCES
Incorporated in 1974, Old Colony Elder Services is one of 27 private, non-profit Aging Services Access Points (ASAPs) in the Commonwealth of Massachusetts. OCES offers a number of programs to serve seniors, individuals with disabilities, their families and caregivers such as Family Caregiver; Adult Family Care; Supportive Housing; Nutrition; Money Management; Protective Services; Home Care and more.
OCES offers these programs in the towns of Abington, Avon, Bridgewater, Brockton, Carver, Duxbury, East Bridgewater, Easton, Halifax, Hanover, Hanson, Kingston, Lakeville, Marshfield, Middleboro, Pembroke, Plymouth, Plympton, Rockland, Stoughton, Wareham, West Bridgewater and Whitman.
The organization's mission is to provide services that support the dignity and independence of elders by helping them maximize their quality of life; live safely and in good health; and, prevent unnecessary or premature institutionalization.
In 2009, OCES was honored with the Metro-South Chamber of Commerce's "Economic Impact Award". The agency has 140 employees. For more information call (508) 584-1561 or visit the website at www.oldcolonyelderservices.org.