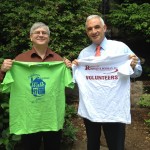 Rodman & Rodman, P.C. partners participated in "A Walk Home: The Walk for Adoption" last weekend to raise awareness and funds for the Massachusetts Adoption Resource Exchange (MARE) and its work to recruit adoptive parents for children and teens in state foster care. Rodman & Rodman is a leading accounting, tax and business services firm with offices in Braintree and Newton.
Steven P. Rodman, CPA, MST, President of Rodman & Rodman and his wife Susan and MARE Board Member Thomas Astore, CPA, JD, Partner and his wife Tina, who are all residents of Newton, participated in the three mile MARE Walk for Adoption. The event was held at Jordan's Furniture facility in Taunton. In addition to walking in the event, the partners have donated a total of $1,300 to the organization along with two tickets to a Boston Red Sox/Toronto Blue Jays baseball game.
The Walk for Adoption event raised more than $70K for MARE. For more information about MARE, visit www.firstgiving.com/MARE.
About Rodman & Rodman P.C.
Founded in 1961 and listed in the Boston Business Journal's "Top 50 Firms", Rodman & Rodman, P.C. provides accounting, tax and business services to small and medium-sized companies. With a focus on strategic planning, Rodman & Rodman goes beyond traditional accounting services and takes a proactive approach when serving clients to increase, preserve and sustain clients' financial net worth. The Rodman & Rodman Green Team is a specialized green energy and clean technology accounting and tax services practice within Rodman & Rodman, P.C. that serves "green" clients throughout the U.S. The company is Green Business Certified and in 2010 and 2011 was named one of the "Best Accounting Firms to Work For" in Accounting Today.
From business valuations, taxation, audits, fraud detection and prevention services and succession planning to a variety of accounting IT services including software selection, implementation and training, the team at Rodman & Rodman serves as comprehensive advisors to clients. For individual clients, the company offers personal advisory services such as planning for real estate transactions, obtaining financing, estate planning and retirement planning as well as planning for college education.
Rodman & Rodman, P.C. are located at 3 Newton Executive Park in Newton and 25 Braintree Hill Office Park in Braintree, MA. For more information, email info@rodmancpa.com, visit their website at www.rodmancpa.com or contact (617) 965-5959.
###