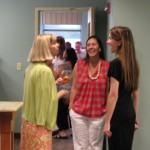 More than 130 attended the Open House held at South Shore Skin Center in Plymouth. The Open House celebrated the Grand Opening of South Shore Skin Center's brand new 6,600 square-foot dermatology office and cosmetic spa located at One Scobee Circle in Plymouth.
The practitioners at South Shore Skin Center unveiled 12 state-of-the-art medical and surgical rooms and a brand new cosmetic dermatology spa to attendees including fellow physicians, patients, associates, friends and family members of the staff. A number of pharmaceutical representatives that the practice works closely with were also in attendance including Leslie Baginski from Medicis (Restylane, Perlane, and Dysport), Loralie Hunt from Sanofi-Aventis (Sculptra), John Hinton from Merk, Suzanne Abbott from Dusa and Nicole Abadier from PhotoMedex.
Dr. Ramzi Saad and Dr. Richard Eisen were pleased to introduce Dr. Emily Tierney a Board Certified Dermatologist and Mohs Micrographic Surgeon who recently joined the practice, to all who attended the Open House.
In the cosmetic dermatology spa, Christina Alves of Pure Fiji, which is the newest line in organic spa products that South Shore Skin carries, provided guests with complimentary hand massages with Pure Fiji's intensive hydrating and nourishing lotion.
Guests also enjoyed special raffle prizes and the fine cuisine of caterer Maureen Kelly of Hingham.
South Shore Skin Center would like to thank the representatives who attended the event and the organizations that generously donated product for the event including: Beth Cadigan from SkinCeuticals who donated 200 individually packaged product samples and three lovely gift packages; Dorothy Ross from SkinMedica who donated samples and three packaged gift sets of SkinMedica products; Cristen Mercer-Sanchez who donated four Rapid Lash; Christina Alves from Pure Fiji donated three gift kits, as well as 200 samples. Additionally, Neutrogena, Cetaphil and Aveeno representatives contributed numerous full size products for the raffle and DelRay and Fallene donated sunscreen samples.
According to Dr. Saad, "The Open House was a terrific event and we'd like to thank everyone who helped make it a success."
South Shore Skin Center
South Shore Skin Center is one of Massachusetts' most progressive dermatology practices offering a wide range of medical, surgical and cosmetic services. The practice has attained and maintained an "A" rating on Angies List Health.
Having outgrown their previous office at Resnik Road in Plymouth, South Shore Skin Center relocated to the 6,600 square-foot third floor of One Scobee Circle in Plymouth. The practice has a staff of 38 comprised of five physicians including Dr. Richard Eisen, Dr. Ramzi Saad, Dr. Katherine Ayers, Dr. Emily Tierney and Dr. William Stocker; four physician assistants; two cosmetic nurse specialists; two estheticians and other staff members.
South Shore Skin Center's cosmetic services include Fraxel re:pair and re:store; Gentle YAG, innovative Laser, IPL (Intense Pulsed Light), Thermage and treatments for age spots, acne scarring, birth marks, tattoos and more. The practice also offers a full range of affordable anti-aging services including Botox, Radiesse, Sculptra, wrinkle fillers, Microdermabrasion, laser skin resurfacing and chemical peels. Anti-Aging and Cosmetic treatments are both safer and more effective when administered at a physician's office such as South Shore Skin Center and Spa.
South Shore Skin Center offices are located at One Scobee Circle in Plymouth, Mass., (508) 747-0711 and 223 Chief Justice Cushing Highway, Suite 202 in Cohasset, Mass. (781) 383-3340. For more information, visit the website at www.southshoreskincenter.com.