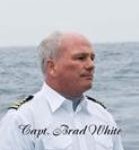 The nation's most requested at sea burial service, New England Burial at Sea LLC (NEBAS) has recently announced that the renowned VCA South Shore Animal Hospital in South Weymouth is adding their services.
NEBAS will be providing Pet Burial at Sea services (Ash scatterings) to VCA South Shore pet owners who wish to memorialize their beloved, furry friends who have passed on.
NEBAS company founder Captain Brad White provides a dignified "celebration of life" ash scattering ceremony for pets. Pet burial services include a Burial Certificate with pet's photo, marking the time, date, latitude and longitude of the ash scattering ceremony. An unattended Pet Burial at Sea is $95, while an attended Pet Burial at Sea service for the pet owner and up to six friends/family is at the special price of $750 (Departing Scituate, MA) if arranged through VCA South Shore. Pet Burial at Sea materials are available in the VCA South Shore's Bereavement Room.
Capt. White explained, "We know that pets are also beloved members of any family and we treat their ash scattering ceremonies with deep respect and seriousness. Losing a pet can be particularly difficult for anyone. Families may obtain better closure from an ash scattering at sea ceremony that celebrates and commemorates their cherished pet."
Christy Hunter, VCA South Shore Hospital Co-Administrator said, "The staff at VCA South Shore Animal Hospital feels New England Burials at Sea can offer caring, dignified and affordable scatterings at sea providing pet parents an alternative end of life option to remember and honor their pets."
White added, "This is a first step in launching our services nationwide through high quality animal hospitals across America because many pet parents frequently call us wanting to learn more about our available services in their geographic area where we may be already operating."
NEBAS Ash Scatterings are approved per USCG and EPA regulations. NEBAS voyages out three nautical miles, scatters ashes with a customized sea tribute service and returns to port. Biodegradable sea wreaths or rose petal scattering and music are other options available during an Attended Ash Scattering Ceremony for Pets, but are not included in the cost of the ceremony. NEBAS does not conduct the actual cremation or full body Burials at Sea for pets which is additional through VCA.
NEBAS is the only company in the USA to be properly insured and licensed using U.S. Coast Guard (USCG) licensed captains with vessels that are clean, safe and up to date from Maine to Miami as well as San Francisco to San Diego. Vessels vary from vintage Maine down east style to sport or luxury level vessels accommodating up to 400 people.
For more information or to make arrangements for a Pet Burial, contact NEBAS at 877-897-7700 or visit the website at www.newenglandburialatsea.com.
About NEBAS
New England Burials At Sea LLC, (NEBAS) offers burial at sea scatterings and eco-friendly full body sea burials for Humans, serving families from Maine to Florida and on the West Coast for groups up to 400 people since 2006. They are recognized by the EPA, US Navy, U.S.C.G. and many area funeral homes and crematories. Scatterings are also offered via vintage Airplane in New England and the company is also the exclusive distributor / operator for the Great Burial Reef® living ocean reef system (designed for cremated remains) from Virginia north to New England. NEBAS also created, designed and manufactures the Atlantic Sea Burial Shroud® for full body burials at sea. There is a free DVD available for the asking describing at sea events.
NEBAS currently departs from the following ports: Maine – Bar Harbor, Boothbay, Sebasco, Kennebunkport, Ogunquit, York, Wells, South Portland; New Hampshire – Portsmouth; Massachusetts – Newburyport, Gloucester, Boston, Quincy, Hingham, Cohasset, Scituate, Marshfield, Plymouth, Provincetown, Hyannis, Harwichport, Martha's Vineyard; Rhode Island – Galilee, Portsmouth, Newport; Connecticut – Old Saybrook, New London, Stamford; New York
(Long Island) – Montauk, Freeport, Port Jefferson, Seaford; New Jersey – Wildwood; Maryland –Ocean City; Delaware- Lewes; Virginia –Virginia Beach; North Carolina, Hatteras; South Carolina, Hilton Head; Florida – Port Canaveral, Sebastian Inlet, Stuart, Miami / Lauderdale, Sarasota, Clearwater & Tampa. Many NEBAS vessels also travel from port to port.
About VCA:
VCA South Shore Animal Hospital located in South Weymouth, MA is a 24 hour animal hospital providing general wellness, specialty and emergency care to pets in the area for over 30 years.
The brand new, state-of-the art facility offers a variety of care including a number of board certified specialists treating a wide range of conditions such as, but not limited to, brain disease, chronic skin and ear issues, bone and joint injuries, heart diseases, and cancer in addition to emergency medicine and care and general wellness care of cats, dogs and a variety of birds, reptiles, and small mammals. The animal hospital has appointments available 7 days a week and a walk in service available 24 hours a day.
Some exciting services offered include rehabilitation services (like physical therapy in human medicine), acupuncture for pets, and consultation and treatment with a certified pain management practitioner.
The hospital also provides boarding to pets which gives clients the piece of mind since the hospital staffs a veterinarian and multiple technicians in the hospital overnight.
VCA South Shore also partners with local veterinarians to provide the best possible care to family pets in addition to a strong relationship with several other VCA Animal Hospitals along the south shore region including Quincy, Hanson, Whitman, Plymouth, and Roberts in Hanover as well as others throughout Massachusetts, New Hampshire, Vermont, Connecticut, and Rhode Island.
For more information about the animal hospital, visit www.vcaweymouth.com, call 781-337-6622 with any questions or visit their facility at 595 Columbian St, S. Weymouth, MA 02190 on September 22, 2012 between 10am-2pm during their 2nd annual open house.
For more information or images, visit http://www.newenglandburialsatsea.com, call toll free New England Burials At Sea, Capt. Brad White at 877-897-7700 or direct (781) 834-7500, email OceanBurial@aol.com.
For high resolution "Burial At Sea image" downloads, visit: http://tinyurl.com/87lovs5, For high resolution "Vessel image" downloads, visit: http://tinyurl.com/7bunbll.