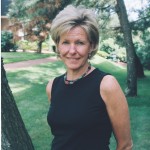 NORWELL, MA…
February represents two anniversaries for eLove Matchmaking's Brenan McGarrigle. Professionally, it represents the month she began working as a matchmaker for eLove Matchmaking (appropriately enough beginning on Valentine's Day). Personally, it represents the month she began dating her husband. This February 14, McGarrigle is celebrating the 30th anniversary of both relationships.
"There's certainly more than a bit of irony in that I found the love of my life once I started helping other people find theirs, but I prefer to call it good karma," said McGarrigle, a Norwell, Massachusetts resident. "Seriously, I love my job, I love my husband and I consider myself doubly blessed to have been with both for 30 years this month."
McGarrigle earned a degree in counseling from the University of New Hampshire. After interviewing for a few social work jobs, she realized that a career in counseling might be a bit depressing because she could only help people so much. Almost accidently, she stumbled onto the opportunity to be a matchmaker with eLove. With more than 600 marriages to her credit in the years since, the rest as they say is history.
"There is a bit of a science to what we do but Brenan has a gift I'd like to bottle and share with all our matchmakers," said Paul A. Falzone, CEO of eLove Matchmaking. "What Brenan has done over her career here is extraordinary and we hope to make February a dual anniversary month for her for quite some time."
McGarrigle and her husband live with their two sons and daughter in the same town as where she works. That's provided her the opportunity to see some of the fruits of her labor. ""It's not unusual for me to go to the bank or grocery store and run into one of our clients who's now happily married with children," said McGarrigle.
eLove Matchmaking initiates a thorough, one-on-one interview with their clients as well as conducting a mandatory background check. Consequently, eLove matchmakers are in tune with their clients' likes and dislikes, life and career goals, and values. This not only enables eLove matchmakers to find suitable matches, but to provide information to their clients that in an ordinary dating scenario they might need five to 10 dates to find out that same information.
To arrange a consultation with a professional matchmaker or for a membership, contact eLove toll-free at 877–356-8370 or visit www.elove.com.
eLove is all you need.
eLove is the first "life stage company" within the dating industry to provide different levels of dating services, based on how serious singles are about meeting their soul mate.  Never before has a dating service catered so completely to everyone regardless of their age, sex, or relationship goals.  With more than 35 matchmaking offices in 19 states and three offices in Canada, eLove Matchmaking is everything that singles have been wishing for whether they are looking for better quality dating experiences or a long term relationship.
eLove's Matchmaking offices are located in: Arizona, California, Connecticut, Illinois, Indiana, Maryland, Massachusetts, Michigan, Minnesota, Nebraska, Nevada, New Jersey, Ohio, Pennsylvania, Rhode Island, South Carolina, Texas, Virginia, Wisconsin, and in Canada (Calgary, Mississauga, Edmonton).
For information on eLove, visit www.elove.com.