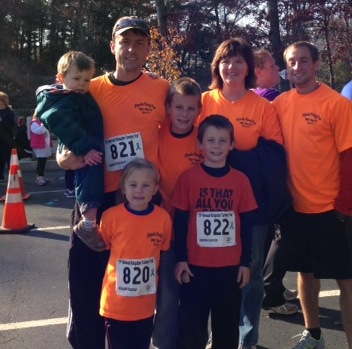 Mass Bay Spine & Sport's Brendan Carman MPT stands with his children Andrew, Hailey, Brian and Jason and team members Patti Simms PT and Matthew Dupont DPT at the 5th Annual Kingston Turkey Trot. The MBSS team participated in the Soul Sister Foundation's Turkey Trot to support ovarian cancer research and awareness. Congrats to Matthew, who finished 5th overall with a time of 18 minutes 18 seconds.
The Soul Sister Foundation's mission is to unite with the community and work together as sisters to promote awareness of today's critical women's health issues. For more information about the Kingston Turkey Trot, visit www.Soulsisterfoundation.org.
For more information about Mass Bay Spine & Sport, visit www.massbayspineandsport.com.