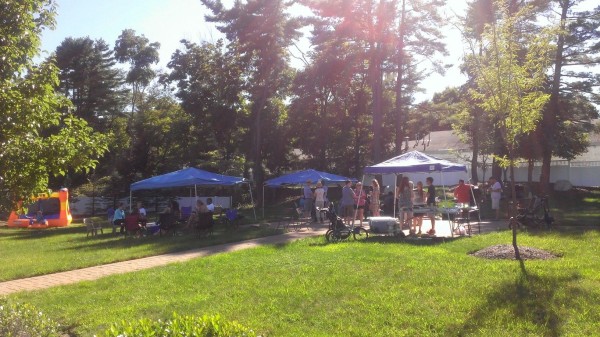 ROCKLAND, MASSACHUSETTS
While it might not rank up there with a day at the beach or pool, the neighborhood block party is one of the telltale signs of summer. For the residents of Maplewood Estates, a new subdivision located in Rockland, Mass., they experienced this rite of summer passage recently at the first annual Maplewood Estates Neighborhood Block party on August 24.
Many residents showed up for a barbecue, which featured food and refreshments. In addition to residents, representatives from Stonebridge, the builder of Maplewood Estates, and the Maplewood Homeowners Association were also in attendance.
"We have built more than 15 new homes at Maplewood Estates this year and it was nice to see so many of these new residents at the block party," said Rami Itani, business manager for Stonebridge Homes, which is based in Easton, Mass. "When you build a home for somebody, it's more than just a business transaction. You really do develop a relationship. It was nice to not only socialize with residents who have become friends, but to see new neighbors meeting other new neighbors."
Located off Webster Street in Rockland, Maplewood Estates offers a rural wooded setting with easy access to major highways and is situated fairly close to Rockland's brand new middle school and renovated high school. Set on 30 acres of natural wooded land, Maplewood Estates is zoned for 72 homes (there are presently 32 available home sites to build on). Featuring quality construction and luxurious amenities, Maplewood Estates offers 12 floor plans to meet buyers' needs.
Prices for homes at Maplewood Estates start at $396,000 and model homes are available for tours, Monday through Friday, by appointment. Maplewood Estates hosts open houses on Saturdays and Sundays, 1pm to 4pm. Coldwell Banker Residential Brokerage in Norwell is the official realtor for Maplewood Estates. You can schedule a tour or request more information by contacting Nancy Kleber at 781-659-7955 or Nancy.Kleber@NEMoves.com.
Interested parties can also get more information, including plans, by visitingwww.newhomesatmaplewood.com.
About Stonebridge Homes, Inc.:
For more than 20 years, Stonebridge Homes and its team, now based in South Easton, Massachusetts, have built many residential communities throughout the northeastern United States, including Maplewood Estates (www.newhomesatmaplewood.com) in Rockland, Mass. and The Gables Condominiums (www.thegables.net) in Abington, Mass. More recently, Stonebridge Homes has been focusing on building and managing construction in towns of southeastern Massachusetts, including Abington, Easton, Raynham, Taunton, Franklin, West Bridgewater, Pembroke, Rockland, Westport , Whitman and Norwell. The styles of these communities have varied from imaginative condominiums to custom single‐family homes designed by its award‐winning in‐house architect, whose specialty is customizing dream homes for individuals, couples and families. Each development is built with the same commitment for quality and satisfaction.
For more information, please visit www.stonebridgehomesinc.com or call or call 508.230.2300.