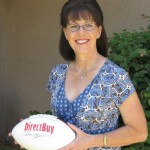 ANAHEIM HILLS, CA…
Irvine resident Katie Hall, a product specialist at DirectBuy of Orange County, was recently recognized with Top Service Quarterly Champion honors at DirectBuy's 2010 International Sales & Service Conference, held May 23-26 in Dallas, Texas.
Each quarter, DirectBuy Club owners nominate those service professionals who go above and beyond for DirectBuy members. Those service professionals are then categorized as Gold, Silver, or Bronze by DirectBuy Corporate. Hall's performance during one quarter of DirectBuy's 2010 fiscal year earned her Gold recognition among her peers out of 150-plus DirectBuy Club representatives at the conference.
"Katie meets and exceeds our expectations on a daily basis," said Ann Rocke, owner of DirectBuy of Orange County. "Her product knowledge is only exceeded by the level of enthusiasm she brings to the job and serving our members."
Part of that enthusiasm stems from Hall once being a DirectBuy member. After she and her husband completed a remodeling project at their home—most of the materials purchased through DirectBuy—she applied for a job in 2007. Hired as a product specialist, Hall assists members with their selection of a variety of home furnishings, specializing in window coverings.
"Because I was a member first, I knew how I wanted and expected to be treated and that's how I approach my job every single day," said Hall.  "There's a real satisfaction when you're helping a member with a project and it turns out the way they envisioned it."
In addition to being recognized onstage at DirectBuy's conference, Hall received one other unexpected reward. Based on her outstanding performance, she took part in DirectBuy's Leadership Event where she received a football autographed by Roger Staubach. The former Dallas Cowboy great was the keynote speaker at this year's Conference.
Hall holds an associate's degree in interior design from the Fashion Institute of Design and Merchandising (FIDM). An Orange County native, she resides in Irvine with her husband Lonnie and sons Matthew and Michael.
The leading home improvement and furnishings club with direct insider prices, DirectBuy Club offers manufacturer-direct pricing on products ranging from light fixtures to televisions to kitchen cabinets, all from more than 700 manufacturers or their authorized suppliers. DirectBuy Club also offers design, delivery, and installation services.
DirectBuy of Orange County is conveniently located at 4925 East Hunter Avenue in Anaheim Hills. DirectBuy Club provides a comfortable, country club setting, where consumers finally have the financial control of buying direct.
For more information on a DirectBuy membership, you can visit directbuycares.com.
About DirectBuy Club
For more than 39 years, DirectBuy Club has been showing thousands of consumers unparalleled ways to save as they shop for virtually everything for in and around their homes – from furnishings, home improvement, and flooring, to entertainment and outdoor products, accessories, and much, much more. With more than 150 locations in North America, DirectBuy Club offers its members access to more than 700 brand-name manufacturers or their authorized suppliers in the U.S. and more than 500 brand-name manufacturers or their authorized suppliers in Canada. Consumers interested in seeing DirectBuy Club's savings, service, and selection up close may obtain a Visitor's Pass to attend an Open House by visiting www.directbuy.com or www.directbuycares.com.