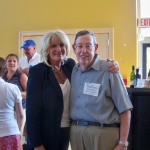 BRIDGEWATER, MASS.
The Bridge Center, a non-profit (501)(c)( 3) recreation center that serves children with developmental, physical and emotional disabilities, held its 19th annual Golf Classic on Monday, July 19, 2010 at the Olde Scotland Links in Bridgewater, Mass. and the Lakeville Country Club in Lakeville, Mass. This year's classic, which included a dinner, silent auction and traditional auction, raised $158,000 for the Bridgewater, Mass.-based center.
"We had a tremendous turnout for this year's event with more than 175 golfers participating," said Jenn Harber, executive director for The Bridge Center. "And with the contributions of our sponsors and others who donated items to the auctions, you'd have call this year's Classic a smash success!"
Channel 5 anchor Susan Wornick conducted a live auction following dinner with prizes that included the opportunity to see the New England Patriots in Miami FL and a 13- day trip to Costa Rica. 
In addition to funds raised from the golf tournament, dinners and auctions, a number of local businesses sponsored the Golf Classic. Among those were: Equity Industrial Partners, New England Development, Regency Transportation, CWC Builders, Inc., U.S. Pavement Services, Inc., T.L. Edwards, Inc., R.J. O'Connell & Associates, Inc., J.W. White, Murtha Enterprises, Triumph Leasing and The Dunkin Donuts Franchise Owners
One hundred percent of proceeds of the Golf Classic are allocated to The Bridge Center's programs and services.
"The Bridge Center is central to the live of so many children and families, mostly due to the programs we offer, such as specialized summer camps, Bridges to Independence for teens and young adults, and Hippotherapy that provides occupational and physical therapy services," said Harber. "And it is the generosity and loyalty of our supporters in the community that make it all possible. For nearly 50 years, there's been unbelievable support for the work we do here. The Golf Classic is an annual reminder of how strong that base truly is."
For more information on The Bridge Center, including the 2010 program schedule, please visit http://www.TheBridgeCtr.org. The Bridge Center strives to achieve a "no child is turned away" policy. Financial assistance and assistance with transportation are available.
About The Bridge Center
The Bridge Center, which is the new name for Handi Kids, was founded by the Knights of Pythias in 1963. The Bridge Center's beautiful 20-acre campus is located in Bridgewater, MA and provides accessible play and skill-building activities for all children regardless of the nature or severity of their disability. Year-round activities include nine weeks of summer camp, therapeutic horseback riding, school vacation camps, holiday parties, Saturday programs, teen programs, vocational training, after-school activities and family support groups. 
The Bridge Center also offers carefully designed summer programs and social skills groups designed to meet the social and behavioral needs of children with Asperger's Syndrome, High Functioning Autism and related challenges.
If you'd like to learn more about The Bridge Center's programs or are interested in becoming a supporter, please call (508) 697-7557 or send an e-mail to info@TheBridgeCtr.org.