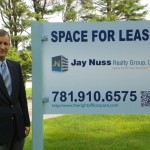 Jay Nuss, a resident of Braintree and real estate broker with 30 years of experience in commercial real estate brokerage, has recently established the Jay Nuss Realty Group, LLC, located at Braintree Hill Office Park in Braintree.
Previously, Mr. Nuss was one of the principals of Paramount Partners LLC commercial real estate services. As President of Jay Nuss Realty Group, LLC, Mr. Nuss will continue to specialize in the leasing and selling of office and industrial properties.
One of his greatest strengths is tenant advocacy and negotiating (and renegotiating) the most favorable terms for enhancing or enlarging office tenants' space. Over the years, Mr. Nuss has negotiated transactions on warehouse buildings, mill buildings, nursing homes, research and development buildings, retail centers, medical buildings, mixed-use properties, school buildings, churches, vacant land and various properties owned by non-profit organizations. He also has extensive experience in appraising and consulting on various types of commercial real estate.
The Jay Nuss Realty Group, LLC will continue to cater to the Boston Metro South commercial market.
QR Codes Connect Real Estate
Always a step ahead of the curve, Mr. Nuss has already incorporated QR codes, optimized for viewing on mobile devices, on Jay Nuss Realty Group, LLC commercial real estate signs to better connect potential tenants and buyers with available properties.
About Jay Nuss
Mr. Nuss holds a Bachelor of Science degree from Northeastern University. He is a graduate of the Realtors Institute and has completed various commercial real estate courses and seminars at MIT, Harvard University, Boston University and Northeaster University. He has also been a Certified Real Estate Brokerage Manager.
Mr. Nuss is involved with a number of Braintree based and South Shore organizations. Currently, Mr. Nuss is a member of the Braintree Zoning Board of Appeals as well as a member of the Braintree Board of Trade. Previously, he served on the Braintree Economic Development Commission and as chair of the Braintree Business Council and is a past president of the Braintree Rotary Club where he is distinguished as a Paul Harris Fellow. He has also been a member of the Work, Inc. Board of Directors serving as its Vice-Chairperson for many years. Additionally, he sits on the Advisory Boards of various small South Shore based businesses.
In his spare time, Mr. Nuss runs a voluntary service which matches up cancer patients with alternative treatment practitioners and programs. As a member of the executive committee for The Campus for Caring, based in Norwell, he is working with Kathy and Ralph Tedeschi on a project to construct the first not-for-profit hospice home on the South Shore.
The Jay Nuss Realty Group, LLC provides commercial real estate services to the Boston Metro South commercial market. The company specializes in office and industrial properties and tenant advocacy. Jay Nuss Realty Group, LLC is located at Braintree Hill Office Park in Braintree. For more information, contact Jay Nuss at (781) 910-6575 or visit their website at www.therightofficespace.com. Check out their fan page at Facebook.com/therightofficespace or follow Jay Nuss on Twitter @JayNuss.