Handwashing is one of the best practices for staying healthy. With the threat of contagious viruses such as the flu and coronavirus, defending against germs is imperative. Now, there is a new generation of hand sanitizer that bolsters that defense.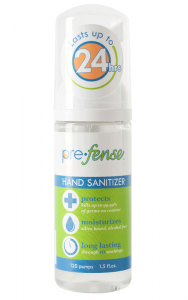 Prefense foam hand sanitizer is a revolutionary new hand sanitizer that acts as a "barrier" to germs and offers lasting protection with just one application per day. Prefense foam hand sanitizer is a patented, alcohol-free formula that soothes and moisturizes hands while providing up to 24-hour protection. The active ingredient in Prefense safely bonds with skin to provide antimicrobial protection all day long, or through 10 hand washings.
"Prefense is a hand sanitizer that provides barrier-type protection and is the only one like it in the world," said John V. Carvalho III, founder and president of Apollo Safety, Inc., gas detection experts and the leading safety and technical services equipment provider in New England that has been protecting the public from invisible, airborne threats for 25 years. "This product has been scientifically and medically vetted, and has proven effective. We've added Prefense to our comprehensive line of protective products."
Having long been the accepted practice for when soap and water is not readily available, alcohol based sanitizers are no longer the only option. An alcohol based sanitizer evaporates (after application) along with the skin's protective layer of natural oils, which can leave skin dry, chapped and cracking. Ultimately, over time it can compromise the skin's ability to keep germs out.
Safe for the whole family, Prefense is a colorless foam that applies easily and dries quickly. Prefense does not contain alcohol, triclosan, hydrogen peroxide, sodium lauryl/laureth sulfate, parabens or harsh chemicals. It is made from a patented, silica based formula that moisturizes skin.
Prefense foam is sold in 1.5 ounce and 8 ounce bottles and is available online. To learn more about the product or make a purchase, visit Apollo Safety's website:
https://www.apollosafetyproducts.net/search?query=prefense
In addition to creating greater awareness about this innovative hand sanitizer, Apollo Safety shares best practice tips for staying healthy below:
– Try to avoid those who are already sick and maintain a distance from anyone who is sneezing or coughing when you are in a public space.
– Avoid touching your face, eyes, nose and mouth.
– Block your sneeze or cough in the bend of your arm. Or, sneeze or cough into a tissue or napkin and discard it in the trash.
– Wash hands often, scrubbing your hands for at least 20 seconds while making sure to get under fingernails.
– Consider wearing a mask if you are going to a doctor's office or other healthcare setting or if you are coughing and sneezing and being out in a public space is unavoidable.
– Self-isolate if you are not feeling well, particularly if you are coughing or sneezing.
Protection from invisible, airborne threats.
Visit Apollo Safety's website, www.apollosafety.com to view their comprehensive "10 Best Practice Tips for Staying Healthy".
About Apollo Safety
As experts in disaster prevention, Apollo Safety, Inc. has grown to become the leading safety and technical services equipment provider in New England. Providing comprehensive gas/toxic leak prevention and detection products and services, Apollo Safety services include installation, regular maintenance and monitoring of the systems to ensure all systems are continually in optimal working order.
Apollo Safety provides portable, stationary and wireless gas detection systems; Man Down/Lone Worker detection systems; sales and support for most major brands of gas detection device manufacturers; as well as service in their state of the art in-house service center. The company also provides on-site support with factory-trained technicians for both portable and stationary gas detection systems.
Apollo Safety is a member of the National Safety Council, National Fire Protection Association (NFPA), Rhode Island Fire Chiefs Association (RIAFC) and the Fire Chiefs Association of Massachusetts (FCAM). A Veteran-Owned Small Business (VOSB) and Veteran-Owned Businesses Enterprise (VBE), Apollo Safety has locations in Boston and Fall River, Massachusetts as well as in Connecticut. For more information, call 800-813-5408 or visit http://www.ApolloSafety.com.