The Boys & Girls Club of Marshfield, a youth development organization providing programs and services to children and families throughout the greater South Shore community, has appointed Mark J. Free, as Director of Teen Programming and Summer Camp.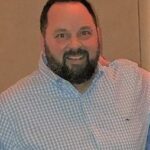 In his new role at the Boys & Girls Club, Free will oversee and lead the operation of all teen and summer camp programs offered at the Club, as well as oversee facility rentals and birthday parties.
Free has more than 35 years of experience working with children and teens and has held several leadership roles within various day camps in numerous Massachusetts communities. Previous to the Boys & Girls Club, Free was the Senior Program Director at Hockomock Area YMCA in Foxboro, MA. Prior to that, he was Senior Program Director, Camp Lyndon at YMCA Cape Cod in W. Barnstable, MA.
Other programs Free has been involved with include licensed after school programs, aquatics, tennis, gymnastics and youth sports leagues. He has an extensive background in coaching youth sports, primarily basketball and baseball, at town, travel, AAU and high school levels.
Free attended Bridgewater State College and Massasoit Community College. He resides with his wife Terry and three children, Kayla, David and Jack, in Quincy, MA.
Teen Programming
The Boys & Girls Club's Teen programming is designed specifically for ages 13-18, and provides meaningful experiences today so teens are ready to chase their dreams tomorrow. For example, the Keystone Club for youth ages 14 to 18 is a unique program providing leadership development opportunities for youth to participate in activities, both in and out of the Club, in three focus areas: academic success, career preparation and community service.
Summer Camp
The Summer Program is designed for youth 6-14 years old and includes activities such as swimming, archery, arts and crafts, field trips, themed days, field games, outdoor play, gym games, game room, and more.
For more information about Teen Programming and Summer Camp at the Boys & Girls Club of Marshfield, visit https://www.bgcmarshfield.org
About the Boys & Girls Club of Marshfield
The Boys & Girls Club of Marshfield's mission is to enable and inspire all young people to realize their full potential as productive, caring, responsible citizens as well as become tomorrow's capable leaders. The Club provides programming opportunities in the Boys & Girls Club of America's (BGCA) five core areas including leadership, education, health, arts, and fitness.
Currently, the Club serves hundreds of families with children ranging in age from 6 to 18 years old, providing afterschool, vacation week and summer programs, as well as youth athletics, teen, social recreational and leadership opportunities. For more information, visit their website https://www.bgcmarshfield.org or call 781-834-2582.