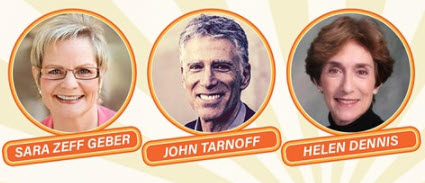 During the early part of the pandemic into early 2021, Baby Boomers, particularly those over 60, had a good reason to be concerned. Beyond being more vulnerable to COVID, many experienced isolation and heightened anxiety due to very uncertain times. On Wednesday, June 30, 4 to 5:30 p.m. EDT, Hey Boomer Podcast Host and Certified Professional Coach Wendy Green will offer a virtual event–Boomers Thriving After the Pandemic—to help Boomers adjust to the challenges and opportunities of a post-pandemic world.
Green has brought together a panel of authors, experts and thought leaders in a special virtual event to help Boomers chart their next steps. The panel includes:
Helen Dennis, a nationally recognized leader on issues of aging and new retirement;
John Tarnoff is a career transition coach, speaker and author, who helps late career professionals transition to meaningful and sustainable second-act careers beyond traditional retirement;
Dr. Sara Zeff Geber is an author, certified retirement coach, and professional speaker on retirement and aging.
For more detailed info on the panelists, you can go to the registration page.
The cost to register is $59. Ten percent of the proceeds will support Meals on Wheels Greenville. Ten percent of the proceeds will support The Walk to End Alzheimer's. To register, click here.