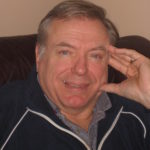 Storytelling in the Round, a monthly program featuring readings by Connecticut's own published (and aspiring) authors, resumes at Between Rounds Bakery Sandwich Café in Vernon in September.
A reading with Brien Brown, author of The Fourth Son, a work of historical fiction, is scheduled on September 18, 2016 at 1:30 p.m. at Between Rounds located in Vernon Circle Shopping Center, 243 Hartford Turnpike. This is a FREE one-hour event.
Brien Brown holds a Bachelor of Science degree in History and a Master of Science degree in Geography from Central Connecticut State University and a Sixth Year in Educational Leadership from The University of Connecticut. After a long career teaching history and geography at the secondary and collegiate levels, he is writing his first novel. Set in the late 17th and early 18th centuries, The Fourth Son is a work of historical fiction following the young son of a French noble family from France into colonial America. Mr. Brown uses his extensive knowledge of history and geography to fill this work with rich and authentic details about early colonial America.
A question and answer session will follow the reading.
"Connecticut is home to so many wonderful authors. Storytelling in the Round gives both the author and the reader an opportunity to connect – right in their own backyard at our café," noted Jerry Puiia, co-founder of Between Rounds.
One Sunday a month from September to May, Storytelling in the Round puts the spotlight on a different local author. All Storytelling in the Round author appearances are arranged by Ron Farina, an author, nationally recognized speaker and veteran.
For more information about future author events, email info@betweenroundsbagels.com.
About Between Rounds
Founded in 1990, Between Rounds Bakery Sandwich Café is a unique bakery café and bagel shop renowned for their fresh, baked-on site bagels and baked goods as well sandwiches, wraps, salads, soups, specialty coffee and a unique line of giftware. Between Rounds offers patrons an upscale, fast-casual dining experience with free Wi-Fi and the added convenience of a drive-thru window.
Between Rounds is expanding and franchise opportunities are available. Between Rounds' current locations include South Windsor, Vernon, Manchester and Tolland.  Corporate headquarters are located at 19A John Fitch Blvd, Route 5 in South Windsor, CT.  For more information about Between Rounds franchise opportunities contact (860) 291-0323 or visit www.betweenroundsbagels.com.