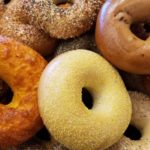 Between Rounds Bakery Sandwich Café, a growing fast casual dining establishment with four locations in Connecticut, is rolling out bagels for Project Graduation.
Project Graduation is an all-night alcohol- and drug-free celebration for graduating high school seniors that provides them with an entertaining, safe and memorable experience. Fundraisers and donations support Project Graduation along with support from parents, local businesses, individuals and organizations.
Between Rounds donates hundreds of bagels for Project Graduation events and in the past, has supported Manchester High School, East Catholic High School, Bolton High School, Glastonbury High School, South Windsor High School and other schools with bagel donations.
"We wholeheartedly support Project Graduation which honors graduating seniors in a safe, substance-free celebration," explained Jerry Puiia, co-founder of Between Rounds. "We've been providing bagels for Project Graduation for a number of years now."
Project Graduation organizers for local schools within their market area are encouraged to contact Jerry Puiia at Between Rounds corporate office in South Windsor to arrange for bagel donations – (860) 291-0323.
About Between Rounds Bakery Sandwich Café
Founded in 1990, Between Rounds Bakery Sandwich Café is a unique bakery café and bagel shop renowned for their fresh, baked-on site bagels and baked goods as well sandwiches, wraps, salads, soups, specialty coffees and a unique line of giftware.  Between Rounds offers patrons an upscale, fast-casual dining experience with free Wi-Fi.
Between Rounds is also a wholesale bagel supplier to many independent grocers throughout the region. Between Rounds signature bagels are delivered to grocers fully baked so no additional labor is required of the bakery department.
Between Rounds locations include South Windsor, Vernon, Manchester and Tolland and franchise opportunities are available. Corporate headquarters are located at 19A John Fitch Blvd, Route 5 in South Windsor, CT. For more information about grocer partnership or their unique franchise offerings, contact (860) 291-0323 or visit www.betweenroundsbagels.com.