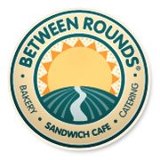 Between Rounds Bakery Sandwich Café, a growing fast-casual dining establishment with locations in Connecticut and Massachusetts, has launched a new online ordering system for their Manchester, South Windsor and Vernon, CT locations.
Now Between Rounds customers can enjoy the convenience of placing their order and paying ahead online at https://betweenroundsbagels.com. Pick-up is available from the company's Manchester, South Windsor and Vernon, CT cafés. Customers must select their pick-up location when placing their order. Orders may be placed days or weeks in advance, or as quick as 15 minutes prior to pick-up. Payment may be made by credit or debit card online. The company is promoting their new online ordering system with a special deal.
Delivery is available to businesses ordering online with a minimum order of $30.
"The demand for online ordering is so significant that we had several orders placed within the first few minutes of launching our system," said Jerry Puiia, co-founder of Between Rounds. "Overall we've received a very positive response from our customers."
Visit Between Rounds' website, betweenroundsbagels.com, for more information.
About Between Rounds Bakery Sandwich Café
Founded in 1990, Between Rounds Bakery Sandwich Café is a unique bakery café and bagel shop renowned for their fresh, baked-onsite bagels and baked goods as well sandwiches, wraps, salads, soups, specialty coffees and a unique line of giftware. Between Rounds offers patrons an upscale, fast-casual dining experience with free Wi-Fi.
Between Rounds is licensed to manufacture prepared foods, and wholesales their breakfast and lunch sandwiches to gas station convenience stores in Hartford County and beyond. The company is also a wholesale bagel supplier to many independent grocers throughout the region. Between Rounds signature bagels are delivered to grocers fully baked so no additional labor is required of the bakery department.
Between Rounds locations include South Windsor, Vernon, Manchester and Tolland, CT and Southwick, MA. Franchise opportunities are available. Corporate headquarters are located at 19A John Fitch Blvd, Route 5 in South Windsor, CT. For more information about their unique franchise offerings, contact (860) 291-0323 or visit www.betweenroundsbagels.com.