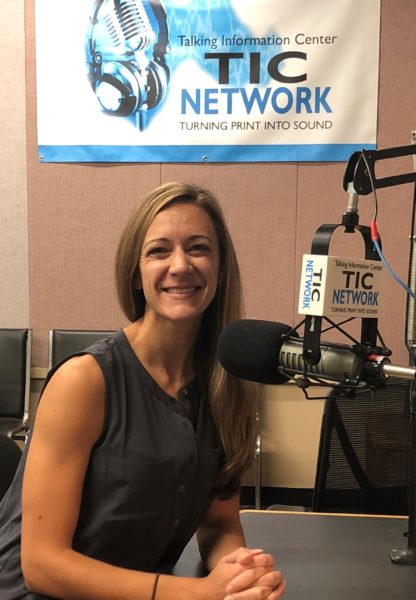 Talking Information Center (TIC), the non-profit reading service broadcasting 24-hours a day to thousands of visually impaired and otherwise print impaired listeners throughout the state, has named Anna Dunbar as Executive Director. She is a resident of Rockland, MA.
Dunbar joined TIC in 2016 as the Assistant Executive Director to oversee TIC's financial operations, development and marketing. Over the years, she held several key positions previous to TIC, including that of Financial Manager at Gateway Arts in Brookline, and as Director of Operations at Galerie d'Orsay in Boston.
In June, Dunbar stepped into the role of Acting Executive Director. Last week, TIC's nine-member Board of Directors appointed her as Executive Director.
"Anna has already shown TIC's Board of Directors, staff and volunteers, the kind of innovative and forward thinking to move TIC ahead in the coming years," said Christine James, Managing Editor/Anchor at WATD-FM and TIC Board Chair. "What is also key, is that Anna knows how important the human connection is in all the ways that TIC reaches out to our 30-thousand plus listeners, and that helps us to maintain our unique relationship with them. We are delighted and proud that Anna is at the helm of TIC."
"I have the great fortune of working with such a wonderful team of staff, volunteers and board members who wholeheartedly support TIC's mission," said Dunbar.
Under Dunbar's leadership, TIC has taken on an ambitious "351 Initiative", broadcasting the reading of every newspaper in every town in Massachusetts. As of September 17, 2018, there will be a total of 255 unique programs in-house every week, with NO reruns, and that includes the hours between midnight and 6 a.m.
"We are committed to broadcasting only new content every single day," explained Dunbar. "All programming is done by more than 200 dedicated volunteers each week. We are constantly adding content such as our Radio and Podcast Players live drama productions, live concerts and symphonies, and most recently, the addition of eight more daily newspapers to the 13 we already broadcast every day."
Since 2016, TIC has experienced significant growth in listenership, number of volunteers, and collaborations. For example, their collaboration with Plymouth Area Community Television (PACTV) means that TIC's feed is broadcast to PACTV's channels, which reach more than 100,000 viewers. TIC will also continue their collaboration with the Marshfield Council on Aging, Duxbury Senior Center, Kingston Council on Aging, and the Plymouth Center for Active Living, and host the South Shore Low Vision Group, a support group that meets on a bimonthly basis.
"TIC works with a variety of partners and collaboratives to provide internship, volunteer or employment opportunities. Over the past year, TIC has had the pleasure of working with individuals from Mass Commission for the Blind, South Shore Education Collaborative, LIFE (Living Independently Forever), Best Buddies and North River Collaborative," noted Dunbar.
Dunbar will focus her efforts on TIC's continued financial stability, while further enhancing the impact and mission of its program. This year, TIC celebrates their 40th anniversary and a gala will be held on Thursday, November 1, 2018. The 40th Anniversary Gala is TIC's major fundraiser for the year and all proceeds directly benefit TIC, which serves the listening needs of thousands of visually impaired and otherwise disabled listeners throughout Massachusetts.
To learn more about TIC's programming and events, or to sponsor or purchase tickets for the 40th Anniversary Gala, visit www.ticnetwork.org.
The Hub of the Massachusetts Reading Network
Based in Marshfield, MA, TIC is a proud member of the International Association of Audible Information Services (IAAIS), and is the hub of the Massachusetts Reading Network, broadcasting to all of Massachusetts as well as southern New Hampshire and Connecticut. The non-profit reading service operates with the help of more than 500 volunteers statewide, broadcasting newspapers, magazines, books, special consumer information, medical and stock market updates, jobs, sports, supermarket specials, voting guides, community newspapers, and television programs. TIC also offers cultural programming such as old-time radio drama, theater, and poetry. TIC's newest programming includes the Radio and Podcast Players and Veterans Voice.
TIC programming may be accessed several ways: via live audio stream at http://www.ticnetwork.org; by utilizing a specially tuned radio receiver; through AudioNow by calling 712-832-7025 from a home or cell phone; or by smartphone app. Listeners with smartphones may download the free TIC app by typing "Talking Information Center" in Apple or in the Google Play store for Android devices.
In 1977, Ed Perry, the founder of radio station WATD-FM in Marshfield, MA, donated his Subsidiary Carrier Authorization signal for use as the first radio reading service in New England. Operating similarly to other broadcast networks, TIC has affiliates throughout the state of Massachusetts that provide inserts of local news and information that is of interest to listeners in their area. The Executive Office of Elder Affairs oversees TIC, which is located at 130 Enterprise Drive, Marshfield, MA 02050. For more information visit www.ticnetwork.org or call (781) 834-4400.