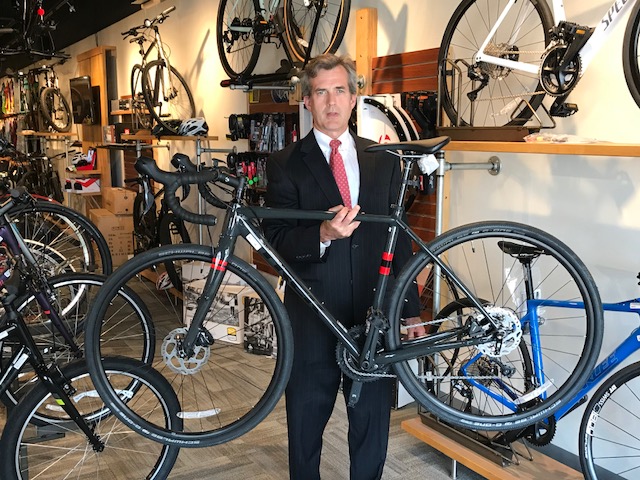 Chris Downey, president of Braintree-based Harbor Mortgage successfully navigated a somewhat stormy ride with his team in the 39th Pan-Mass Challenge (PMC) on August 4 and 5, 2018. Team Willett Power raised $125,000 in donations to PMC, which raises money for life-saving cancer research and treatment at Dana-Farber Cancer Institute.
For the second year, Downey and the 12-member team rode 163 miles from Wellesley to Provincetown in the PMC annual bike-a-thon fundraiser. Many members of Team Willett Power have had personal experience with cancer in some manner. For Downey, it was his wife who had breast cancer. She recently celebrated her 10th year of remission. Team Willett Power's captain Bruce McCutcheon lost his first wife to ovarian cancer.
"The weekend brings a lot of great stories as well as very sad stories and inspirational stories," explained Downey. "We met some incredible people, including our 'Pedal Partner' Charlie, a four-year-old boy with Leukemia who is currently going through chemotherapy, who was with his parents at one of the food/water stops on Day One. On Day Two, we rode past a woman sitting along a very barren stretch of route 6A with a sign that read 'I'm a Survivor, thank you for saving my life.' It gets your priorities in order very quickly."
Last year, the team raised over $150,000 and they continue to strive to meet that same goal this year. Donations to Team Willett Power may be made online through the end of September at http://pmc.org/egifts/CD0269
About the PMC
In 2017, there were 6,200 riders and the PMC gave a record gift of $51 million to Dana-Farber. The PMC donates 100 percent of every rider-raised dollar to Dana-Farber Cancer Institute. For more information about PMC, visit https://www.pmc.org
Harbor Mortgage Solutions, Inc. is a family-owned, residential mortgage company serving Massachusetts and Rhode Island. Recognized as a leading housing wealth management authority, Harbor Mortgage is dedicated to serving the unique home financing and often complex needs of senior homeowners, while also promoting those needs among consumers, professional advisors, state legislators and industry regulators.
Harbor Mortgage (NMLS #2846, MA-MB2846, and RI 20041821LB) is located in Braintree, MA. For more information, contact 781-843-5553 or visit HarborMortgage.com.