Chris Herlihy has been appointed Executive Vice President at Adaptable, a digital accessibility service recently launched by Middleboro, MA-based Shotgunflat, Inc.
Adaptable helps businesses and organizations of all types and sizes ensure accessibility for their websites, apps, and other digital resources. In his new role as EVP, Herlihy will oversee Adaptable's sales and marketing operations, focusing on the many different industries they serve including retail, dining, non-profit, education, municipalities, high-tech and others.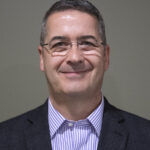 Herlihy is a co-founder and Managing Partner of Shotgunflat. Prior to his promotion to EVP for Adaptable, Herlihy was Shotgunflat's Vice President of Sales for more than 15 years.
Herlihy has over 30 years of experience in communications, with many of those years based in the print industry. From the early days in print media to today's digital world, Herlihy has overseen business development and client relationships for hundreds of projects, including the Disney Theatrical Group, Feld Entertainment and the National Fire Protection Association.
Herlihy is a member of the Neponset River Regional Chamber of Commerce, the Cape Cod Chamber of Commerce and the Cape Cod Technology Council. He previously served as a Board Member of Neponset River Regional Chamber of Commerce for seven years.
A native and resident of Dedham, Herlihy is a member of the Endicott Community Greenhouse on the Endicott Estate. In his spare time, he enjoys Bass fishing and other outdoor activities.
About Adaptable
Adaptable is a service of Shotgunflat, Inc. Since 2002, Shotgunflat has been designing and building compelling websites and apps for small businesses and non-profits, as well as marketing, branding, PR and advertising agencies across the U.S. The firm's comprehensive suite of services includes Adaptable digital accessibility, web design and development for enterprise, and website maintenance and support.
An innovative leader in accessibility compliant websites and apps for retail, dining, non-profit, education, high-tech and other industries, Adaptable works with businesses and others to analyze their current digital accessibility status, formulate a remediation plan, execute the required changes, and monitor the product going forward to ensure that companies remain compliant over time.
Adaptable is based at Shotgunflat headquarters in Middleboro, MA. For more information about Adaptable, contact 781-801-5803 or visit https://www.adaptablelab.com.