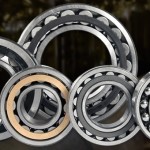 Action Bearing, one of the largest independent distributors in the U.S. specializing in bearings for Original Equipment Manufacturers (OEM) and Maintenance, Repair and Operations (MRO) markets, recently hosted an Open House in celebration of Manufacturing (MFG) Day.
MFG Day, which occurs on the first Friday in October, is a national event that opens the manufacturing industry to the public through educational programs, tours, digital presentations, open houses and more – to inspire the next generation. Action Bearing celebrated MFG Day with an Open House on October 2nd, which provided a forum for discussion regarding current trends and innovations in the bearings industry, and also addressed the challenges faced by manufacturers.
"Bearings are fundamental to most machines and span many industries from robotics, transportation, food packaging and processing, to heavy construction, power generation, steel mills and more," explained Steve Katz, the company's president. "We have nearly 60 years' experience providing solutions to diverse OEM and MRO clients and we were thrilled to host this open house and show visitors what we do."
Visitors were able to tour Action Bearing's advanced facilities and attend educational presentations where the company's bearings experts shared their knowledge of materials, managing load and speed, clearances, specialty bearings, the overall process and more. They were also able to see examples of bearing applications, from robotics to steel mills, and anything in between. Future engineers, designers and other visitors interested in a manufacturing career were able to obtain valuable insight about the bearings industry.
About Action Bearing
A New England staple, Action Bearing has supplied bearings and technical parts to the region and niche markets across the country for over fifty years. Specializing in bearings for Original Equipment Manufacturers and Maintenance, Repair Operations markets, Action Bearing has 25,000 square feet of inventory, an online product catalog with over 3 million bearings, a fixed price program, and bearing experts on hand at all times.
Action Bearing is the sister company of Emerson Bearing of Boston, MA. To learn more about their services, products and immediate shipping opportunities, contact 800-225-4587 or visit www.actionbearing.com.