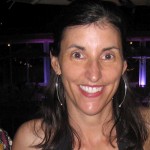 NORTH ATTLEBORO, MASS…
Todson, Inc., the U.S. distributor for Topeak cycling accessories and OnGuard Locks, recently promoted Dorothy Nichols to the role of senior director of events.
In this expanded role, Nichols will continue to represent Todson at trade shows for both Topeak and OnGuard. Most recently, she represented OnGuard at the Daytona 200. In addition, Nichols will also act as an advocate with governmental agencies and legislators. That includes events like the National Bike Summit in Washington DC, which Nichols attended in March.  
"In the few years with our company, Dorothy has done an outstanding job of representing Topeak and OnGuard products and has been tremendous advocate for safer cycling practices," said Neal Todrys, president of Todson, Inc. "We look forward to her continuing her outstanding work in this expanded role."
A former member of USA Cycling, Nichols previous worked in management positions for a number of cycling or cycling-related organizations. That included tenures as race team manager for Yeti Scott and Schwinn and as a bike leader for Bike Vermont, a bike touring company offering tours throughout Europe.
"OnGuard and Topeak both have a reputation for quality and innovation. My role as events director has enabled me to bring that to an even broader market and that's something I look forward to continuing in this expanded role," said Nichols.
A Denver, Colorado native, Nichols earned a bachelor's degree in English from Colorado College and a master's from Denver University. Married, she and her husband Brad reside in the greater Denver area.
World Class Sports Accessories
Todson, Inc., the exclusive importer for Topeak for the U.S., is committed to providing the best in sports accessories to consumers around the globe.  Over the past 16 years, Topeak has risen to become the top cycling accessories brand in the world. 
In addition to Topeak cycling accessories, Todson is the distributor of renowned OnGuard line, the toughest line of power sport, bike and gear security products in the world.  The OnGuard line is available only through authorized dealers. Recognized for their legendary anti-drill and pick-proof M-Cylinder mechanism and flat key lock system, OnGuard's locks, whether key or combination lock, are tested, approved and certified to guard bikes or power sport vehicles the world over.  OnGuard is the leading lock brand in Europe, in particular, Amsterdam, the bike theft capital of the world. 
Todson has successfully marketed recreational goods for more than 50 years. Now in its third generation of family ownership, Todson specializes in strategic sales and marketing, distribution, brand management and e-commerce. For more information about Topeak cycling accessories and OnGuard Locks, visit www.Todson.com or contact Todson at (800) 213-4561.  The company is located at 73 N. Washington Street, N. Attleboro, Mass.