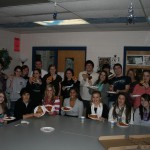 PLYMOUTH, MA…
Taking a full course load, participating in an extracurricular or two and, oh yeah, doing a little homework is a plate full enough for most students. Students on Plymouth South High School's Student Council gladly take on more as part of their duties on the council. That includes a healthy portion of community service. For those efforts and continued fine work in the classroom, the 20 members of the Plymouth South's Student Council received the Tracy Chevrolet Cadillac Driven Student of the Month award for December.
"The Student Council is comprised of 35 elected officers and delegates, who are voted in by their fellow students. The rest are active members who enjoy working with others to bring changes to our school and community," said Ann Wolf, the faculty advisor to the Student Council. "That so many young people would volunteer their time to this organization and the community as a whole says quite a bit about their character."
The Council's most recent effort involved creating and delivering 40 turkey dinners to families in need over Thanksgiving and more are going out for the Christmas holidays. While that gesture stands alone as being significant, it takes on added importance when you consider those meals went to the families of fellow South students. Currently the students are working on a "Backpack Bonanza" project. Backpacks will be filled and then sent off to the troops at the VA.
"Part of why we started the Driven Student program was to recognize the good work so many students do, people who might not get the public accolades reserved for the captain of the football team or straight A students," said Jeff Tracy, president of Tracy Chevrolet Cadillac. "Based on their track record for community service, the student council members and volunteers are very worthy of Driven Student honors."
For being selected Driven Students of the Month, the Council was treated to a pizza party, courtesy of Tracy Chevrolet Cadillac. Student Council members honored as Driven Students include: Melanie Dorn, Adam McGarry, Jonathan Obin, Samantha Barrett, Hannah Shepherd, Kaila Millett, Jazz Hicks, Nick Trainor, Abby Barufaldi, Patrick Walsh, Hillary Peavey, Santiago Narino, Tori Pisto, Maddie Braz, Melissa Connolly, Brenna McGinnis, Marissa Persichini, Julia Daly, Kyle Richard, Allison Daley, and Maris Kanter.
Tracy Chevrolet Cadillac's Driven Student program recognizes Plymouth high school students for their performance and achievements in and out of the classroom. Awarded on a monthly basis, recipients are selected by faculty and advisors at the student's given school.
So easy at Tracy Chevrolet Cadillac
For more than 80 years and three generations of dealers, the Tracy family has made it so easy for customers on the South Shore and greater Plymouth area to purchase new and used automobiles. Since its beginnings in 1992, Tracy Chevrolet Cadillac has emphasized first-rate customer service and straightforward, bottom-line pricing with fair trade-ins every time–without the games or gimmicks you find at other dealerships. For more information on new and used trucks and automobiles, you can go to www.tracymotors.com or stop by the dealership, conveniently located at 137 Samoset Street, just off exit 6 on Route 3. For more information, or to make a service appointment, you can also call (800) 640-2884.